A Movie and a Meal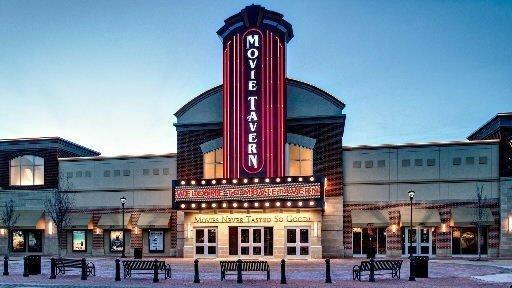 Hang on for a minute...we're trying to find some more stories you might like.
    To spend the night going out to watch the newest movie in an uncomfortable constrained chair is one way of doing it. However, a favorable way to amp up your night out is to head to a Movie Tavern with 11 screens and 1,100 reclining chairs, so go get a seat! Mrs. Godshall, Pennridge film teacher, is a huge movie goer and has been to the Movie Tavern countless times.  She stated that, "Reserved seating is the best part.  There is no rush to get there early and save seats. The chairs are very comfortable and recline!"
 "Relax, recline and dine", enjoy being served a delicious meal while watching a movie you've been waiting to see. The Movie Tavern offers a wide variety of food choices, from light snacks to a full course meal. Starting with brunch, where they serve chicken and waffles, breakfast burritos, pancakes, and more. Lunch options include tavern fare and pizzas to sandwiches and burgers. If you come around dinner you can enjoy a hand cut steak and shrimp, Vietnamese rice bowl, or even a nutritious salad! Most of us have a sweet tooth, so finish off a movie on a sweet note with a churro, brownie bottom sundae, or classic theater candy.
The Movie Tavern also offers events such as movie flashbacks and a retro cinema night. Movie flashbacks are offered every Sunday and Wednesday, matinee and evenings. Enjoy your favorite movies from years past! The Movie Tavern also offers $5 movie Tuesdays for all ages and any movie that day, it doesn't get much better than that. They also hold birthday parties where you can pick your menu, reserve seats, and much more.
Although the Movie tavern is recommendable, Mrs. Godshall pitched in a warning, "Yes, I would recommend this to a friend, as long as they don't mind a few distractions during a film. The people who work there are very good about being as minimally disruptive as possible, but you still get a bill during the movie and there are people ordering food throughout." Despite a few disturbances a student, Hallie Biaer explains, "it's really nice to be able to watch a new film, recline in comfortable seats and eat good food. Although it's a little pricey, it's still nice for a night out."
About the Writer
Nicolette Harrison, Student Writer
12th grader, interested in soccer, ski and board, photography, videographer, traveling, good books, the beach. Nicolette is also committed to play soccer...