Truth or Dare
Hang on for a minute...we're trying to find some more stories you might like.
More stories from Christian Perrine
After watching Truth or Dare (2018), produced by Jason Blum and directed by Jeff Wadlow, I quickly learned that this was not an original movie and that there was another Truth or Dare released a year earlier in 2017.The 2018 version of Truth or Dare had been distributed by Universal Pictures. They had a budget of 3.5 million dollars and its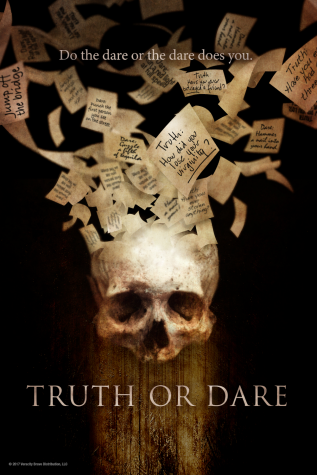 release date was Friday, April 13, 2018. The plot of this movie is very similar to the 2017 version but with a few changes. In the 2018 version of Truth or Dare, a bunch of teenagers went down to Mexico for vacation during spring break. One girl, Oliva, is approached by a very nice stranger, who introduces himself as Carter. He gets Olivia and her friends to go have drinks with him at the ruins of an old mansion. Carter starts the game of truth or dare with the group of teens. After they leave, the game follows them and they have to complete the truth or dare given to them. One by one, the friends start dying from the horrendous dares. There is only one way to stop the game. The person who started the game has to say a spell seven times, cut their tongue out, and put it in a jar. Although, they have a problem getting Carter to complete this, therefore, Oliva comes up with an idea to keep their turn on hold for a long amount of time.
The 2017 version of Truth or Dare was written by Thommy Hutson and Ethan Lawrence and directed by Nick Simon. The plot of this movie has a much similar idea, it is about eight college students who rent a house for vacation. Although, the house is haunted by a vengeful spirit who had lost a game of truth or dare years ago. The group decides to play the game, but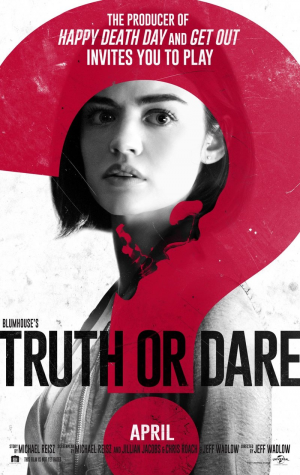 they do not know what is in store for them. While they are playing, they are forced to tell humiliating secrets and do very dangerous dares that risk their lives. Each dare gets increasingly dangerous, but they only have to play 3 rounds. This movie is very gory, so if you do not have a strong stomach, I would not recommend watching, but some people really like that when asked which she liked more Mackenzie Bross had said "The 2017 one, because it was more gory and more action packed… The people did not know they were going to have to play this game. It made it more suspenseful". After seeing both, I highly recommend the 2018 version of Truth or Dare. It has a better solution to the problem, and the teens are under the impression that everything will be okay, but then everything falls apart. The reviews online says that the 2017 version is better, but I do not agree with them. Although, in order to find out what movie suits you best, you will have to watch them both on either Netflix or On Demand.
About the Writer
Christian Perrine, Student Writer
Christian is currently a senior at PHS. He enjoys Wrestling, Water Polo, and Photography. His goal this year is to make it to states in Wrestling and do...