Juggling School and Work
Hang on for a minute...we're trying to find some more stories you might like.
Part-time employment is a great adventure so many high schoolers embark on today. There are so many benefits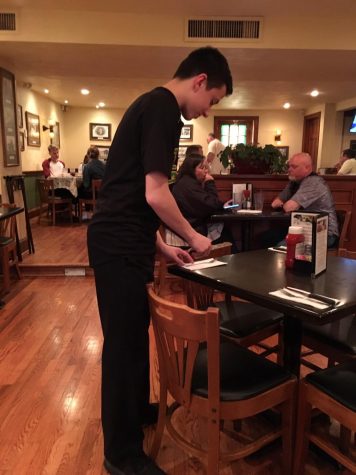 to a student using their free time to work. Likewise, there are some drawbacks to this as well. This leads to the big question, "How much is too much work and is it worth putting in lots of hours to have a little extra cash in your pocket?"  For high schoolers, the important skill of time management is learned from working. This is a crucial skill that a job teaches. As a student, you must learn to stay on top of your studies, participate in extracurricular activities, and be prompt to your shifts at your job. With a packed schedule, it teaches the student to work ahead, work more efficiently, and be able to set personal limits for what is too much. Pennridge senior Ryan Bashaar said, "I chose jobs that would allow me some free time for homework and socializing. I work short hours after school and once on the weekend." According to Concordia University- Portland, students that work an average of 15-20 hours a week see a decrease in their academic performance. But on the flip side, having a job is a great resume booster and colleges love to see this on your applications. Jobs can also provide a student with the ability to possibly work in a field of interest to better prepare themselves for future careers. But the Federal Labor Standards Act limits what a student is able to do until they are 18. Pennridge High School senior, Morgan Biersch said, "I recommend all kids to work, I think it prepares students for balancing and time management while in school. I also think it is beneficial for kids to learn how to make an income early on and how to manage their own money."
There are so many other options for work as well. If a student is unable to devote many hours of their time during the school year, summer employment is a great option. This way they can work many hours during the summer break without having to worry about their academics interfering with their job. Even if a student is unable to work either during the school year or summer, it is still a good idea to get exposure to the workforce. Job shadowing is a great alternative for someone who may not have the time to work during high school. It allows them to specifically choose a career to look into to give them a better idea of what the field may look like. No matter how you go about working in high school, it is probably a good idea to take part in some sort of job even if that means doing more chores at home. There are so many valuable lessons that can be learned from having a job.
About the Writer
Hannah Cressman, Student Writer
Hannah is currently a senior at PHS. She loves playing soccer, lacrosse, and Webkinz! She is very passionate about online gaming, and can be found perfecting...