The perfect date
Before watching the movie, The perfect date, I read a lot of mixed reviews.Many were good and some were bad. People claim the movie to be cheesy, full of bad grammar and no compassion within the acting. A review from Chloe O'Hare said  "The writing is clumsy. The guy who the main guy is supposed to be best friends with(he said he was his watson) have no chemistry. like all the convos are 5-6 sentences and they aren't even like fun. they never atablish ANYTHING they could possibly have in common." A review from Mae C said "I honestly feel like I wasted two hours of my life watching something that feels like it was written by a group of 40 year old men who think they know what appeals to teenage girls. I can only speak for myself, but they would be sorely mistaken." On the other hand some people loved it! A review from Vinod Prasad said "Been waiting for the movie after watching it's trailer. Movie is very great and so relatable to the present world especially to us Post-Millennials." Another good review was given by Phoebe Omuro she said "Wow. Where do I begin? For starters, everything in this movie is 100% accurate to real life. It was almost scary, I felt like I was reliving my teenage years." I personally really liked the movie and I would watch it again. The only thing I did not like was how predictable it was. It was kind of like every other teenage movie. A guy likes a girl he most likely can't get because she doesn't notice him. He then does everything possible to get her.  Considering it was teenage movie, we asked Abigail Esbenshade,a senior at Pennridge High School what she thought. She said "1/10 rating, I would give it an 8." We asked her what she thought of the plot and if it was a good idea. She said " I think it was a good idea because he was trying to get money in a fast way." When asked how she would describe the movie, she said "A boy who needs to get into Yale, thinks of a creative way to make money. He creates an app where girls can go and create the perfect date for that day." I think what Brooks Rattigan the main character (played by Noah Centineo) did was a very creative and smart idea, it was also a fun way to make money. Overall it was pretty good movie and I would recommend it to others, after all Noah Centineo plays the main character! If we're being honest that's the real reason I watched it.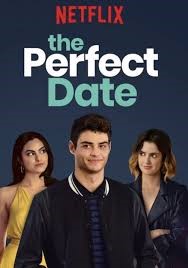 About the Writer
Zahraa Munshi, Student Writer
Zahraa is a current senior at PHS. Her hobbies include playing tennis, traveling, and writing. Her goals are to travel the world and have a successful career.