Tabora Farms
Tabora Farms has something for everyone; it is a full service deli and bakery. One of their slogans is Old Fashioned. Homemade. Quality. Just like Grandmas.It has been operating since the mid 1700's. Tabora Farms is owned by a family of six who are all very involved and work continuously for Tabora's best interest. Over 160 fresh made items are made daily. Their homemade items don't include any trans fats, additives or preservatives.  In their deli, you can get soups, salads, sandwiches, and quiche. They also have a kids' menu. In the bakery there are pies, cakes, cookies, and breads. They offer a gluten free menu as well. Tabora has a coffee bar, a made to order crepe bar and a smoothie bar. They also have a variety of different jams to choose from. Throughout the year, Tabora holds several events; from different festivals to open houses. Owen Reim, a Pennridge South Middle School student said "The haunted house was really fun with my friends, I wasn't too scared at it." During the summer you can go to the Summer Harvest and pick  blueberries, currants,gooseberries, peaches, plums, cherries, blackberries, and apples. Victoria Paterson a student here at Pennridge High School said one of her favorite memories of Tabora is "strawberry picking with family when I was younger". Everyone has their favorite things to get and since they have such a large variety it can be something different for everyone. Hannah McManus, who is also a student here said "I love their baked goods, they're always fresh and yummy. I would pick going to Tabora to get pies, cookies, etc. any day over a place like Giant."  Tabora Farms truly feels like our home away from home and a place we can all be lucky to have in this area. Julia Johnson, a student at Pennridge and an employee at Tabora said "I never went to Tabora as a kid because I didn't grow up in the area, but over the past year, I have made so many memories since I began working there. The staff is amazing. The owners and their children are phenomenal. I've made so many friends, have laughs everyday I'm there, and have gotten to know so many people in the community. Tabora has been a blessing in my life." This shows the kind of place Tabora is.  You should definitely take the time to go there!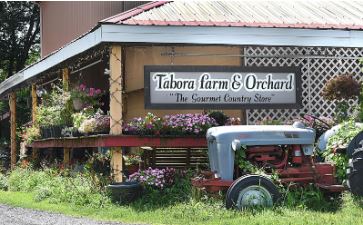 About the Contributor
Ashley Pyne, Student Writer
Grade- 12th grade 

Hobbies- On Winter and Spring Track and Field teams, executive council, NHS and she loves to travel

Goals/Accomplishments- To...