And Sew it Begins
Students on the Career Path of Sewing
More stories from Madeline Reim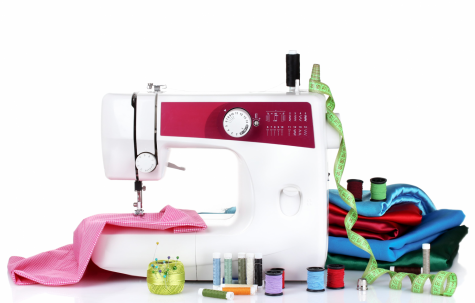 Sewing in many ways is a form of art, and for many a career path. Students entering the field of fashion design gain first-hand experience of the means of production, pricing, supply and demand, and material use through Miss. Hoffman's sewing program.
Miss. Hoffman has been a teacher at Pennridge High School for seven-years and has been teaching sewing during her entire time at the school. In her program, students pick at least three patterns and have to create the garments with the sewing techniques taught. Many students come out with pieces they can wear and use many times. Her classes are separated into a sewing one and sewing two class, with sewing two becoming more involved and intricate in designs.  With regards to her sewing two class, Miss. Hoffman said, "I am most proud of my sewing two's reuse, re-style and redesign projects. I think they created really creative and useful items."
It can be said that sewing is no easy task and it can be complicated. Some students don't excel in sewing or don't like it as much as they anticipated they would. On the other hand, some students absolutely love sewing and go to college in sewing related majors. As any teacher would, Ms. Hoffman has anticipated great things out of some of her students. Hannah Holton, Hope Seiler, Jess Felicione, and Abby Kim are just a few of these students. "They are very creative. I think that these days you don't have to become a famous designer to make an impact on fashion," Hoffman said of these students. Creativity and impact go hand in hand in sewing and for producing goods for others.
Pennridge sewing two student Abby Kim, said of the program, "You learn the basic fundamentals of sewing and you learn from your mistakes. So basically, you learn good skills to have in the future." Sewing is just that, preparation for the future. Whether that be learning how to make items to sell to others or simply learning how to patch a hole in a pair of pants, sewing teaches students a great life skill.
Outside of the classroom, the lessons taught by Miss. Hoffman carry through into everyday life. Clothing is bought widely by every person and sometimes those garments need adjustment after wearing it for a while. With students taking the lessons taught by Hoffman and using their skills to fix problems, they prove that sewing is an essential life skill to have.
Sewing can be a difficult skill to learn, but with guidance from a teacher and practice, anyone can learn to sew. And they can use those sewing skills in their real life!
About the Writer
Madeline Reim, Student Writer
12th grade

I am going to be attending Indiana University of Pennsylvania for family consumer science education. My goal is to graduate there with a...