Class of 2019 Graduation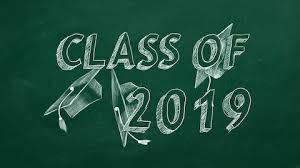 "These four years flew!" said senior, Caitlyn Amsden. "I don't have a clear idea of the things I need to do before graduation." Don't worry because this article has got you covered! As the class of 2019's high school career is coming to an end, there are many final tasks that must be completed in order to graduate.
Pay Library Fines

All library fines must be paid and books must be returned. Overdue returns of books may result in the inability to purchase prom tickets as well as receive your cap and gown.

Complete Senior Survey

All students of the PHS Class of 2019 must complete the senior survey. The survey can be found on Naviance – About Me – My Surveys – Surveys Not Started. Students who plan on going to college, must report their university or institution so that final transcripts can be sent. Individuals will not be allowed to pick up their cap and gown unless the survey is completed. If a student was unable to complete the survey during the given time on May 6th, he/she can complete it on their own. The deadline for the survey is May 23, 2019.

Pick Up Cap and Gown

Caps and gowns will be distributed on Tuesday, June 11th from 8:00am to 10:00 am (see below for your allotted time). All obligations must be completed before picking up cap and gown. Tickets and caps and gowns will be given to students in the white gym (enter by the weight room). Look below for your last name initials to see when the designated pickup time is!

A-D 8:00-8:20 am
E-H 8:20-8:40 am
I-L 8:40-9:00 am
M-P 9:00-9:20 am
Q-T 9:20-9:40 am
U-Z 9:40-10:00 am

Gradimages Registration

Gradimages is a company that will be taking photos at the Pennridge graduation ceremony. If you are interested in pre ordering graduation photos, you can access the link through the Class of 2019 tab on Canvas under Senior Information.

Graduation Practice

Graduation practice will be held on June 12th, in the White Gym from 8:00 am to 10:00 am. It is mandatory that all students attend the rehearsal. If an individual does not attend, he/she will not walk at the graduation ceremony.

Final Bus Ride

It is mandatory that all seniors take their final bus ride to the graduation arena. All students should park their cars in the front lot and walk down to the bus driveway. Students should arrive by 4:00 pm since the bus will leave promptly at 4:10 pm. If an individual is not on the bus, he/she will not walk in the ceremony.
"The end of the year senior calendar was sent out in a newsletter to all parents via BBC, it is posted in the announcement section of Class of 2019 on Canvas, it is posted on the Guidance website and it was Tweeted by the class of 2019, Guidance, PHS and Dr. Bolton," said Mrs.D'Angelo, a Senior guidance counselor. Be sure to look there for information, or contact guidance counselors with any questions! Get those obligations done seniors, graduation is right around the corner!
About the Writer
Logan Sudholz, Student Writer
Logan is currently a senior at PHS. Her interests are rowing and spending time with friends and family. She plans to attend the University of Miami in...