Shannon Carney Dance Academy
Shannon Carney Dance Academy, SCDA, opened in 2005 and has been providing students with dance classes. Miss Shannon, the owner, graduated from the DeSales University Dance Program. The atmosphere is kept positive and fun. Teachers focus on improving self-confidence, technique, and providing personalized attention to each student. The goal of SCDA is to inspire their students through positive energy, allowing them to dance to the best of their ability. SCDA builds a welcoming and caring environment that enables students to thrive as dancers. They make it a priority to treat each student with compassion and consideration. They enforce that students treat each other with the same positive attitude. SCDA also keeps their class sizes small to ensure that each student receives the right amount of attention. They offer opportunities to each dancer, whether they are a young, old, or recreational dancer. 
Students can sign up for classes in the fall or sign up for camps during the summer. In the fall, they offer creative movement classes, pre-ballet/tap, and hip-hop for their younger students. They also propose various levels of ballet, modern, jazz, hip-hop, and tap. Students also have the option of joining the performance group there, but auditions are required. The dance season runs from September to June, and the number of classes taken determines the tuition. After the fall is over, students between the ages of three and ten get offered dance camps. These campers will participate in dance classes, arts and crafts, story time, and snacks. At the end of each camp day, the dancers will perform the routine they learned. Summer dance intensives get offered to their older as well as their younger students. They have jazz, ballet, modern, and hip-hop intensives based on age and experience. There is also an intro to choreography class where students will learn how to construct a personal dance piece. These classes can range from $65- $115. 
The teachers enjoy the positive atmosphere as well as working with the students. Adrienne Mott, a teacher at SCDA, has worked there for 13 years and is currently teaching 12 classes. Although her favorite style to teach is hip-hop, she enjoys working with the younger kids in all styles of dance. She says, her job "feels more like a hobby than work," she has been "dancing for 34 years and still loves it." The students that attend SCDA love dance and the studio itself. Erin Moyer, a dancer at SCDA for nine years, says that "the studio was like one big family." She grew very close to teachers and fellow students. She "always felt challenged and was constantly pushed to do her best." The studio and dance have given her so many friends and role models, which helped her find her passion.
The registration fee is $15 per student or $25 per family. An hour class costs $55 with a $2 deduction per additional class for up to four classes. Lessons that last up to an hour and a half are $74, and a two-hour class is $90. If you are interested in signing up, you can complete the registration form on their website and email it to [email protected].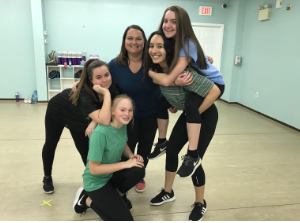 About the Writer
Alexis Rosen, Student Writer
Grade 12

Interests/hobbies: Pennridge Dance Team, listening to music, being with friends, Key Club, and volunteering at a  camp during the summer. 

Goals:...