Coronavirus Pandemic Causes Widespread Panic
As cases of the novel coronavirus soar around the world, governments are scrambling for ways to contain it, stock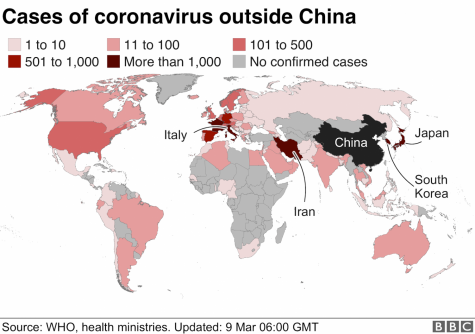 markets are crashing, schools are shutting down, and test kits are in short supply. The virus originated in Wuhan, China, but there are an estimated 114,230 cases around the world, with the death toll reaching 4,005. President Donald Trump has created a task force run by Vice President Mike Pence to combat COVID-19 as 35 states report cases. In January, President Trump suspended all travel from China, and he has established screenings of all direct flights of passengers from Italy and South Korea. According to Vice President Mike Pence, "The risk of contracting the coronavirus to the American public remains low, and the risk of serious disease among the American public remains low." Italy expanded its redzone to the entire country, issuing an unprecedented lock-down on 60 million people. Italian Prime Minister Giuseppe Conte has banned public gatherings, and people are only allowed to travel for work purposes or emergencies. China, Iran, Italy, and South Korea have level three travel notices with ongoing transmission.  
The Pennsylvania Department of Health has sent an email to the Pennridge School District and the nursing staff, with information provided by the CDC on precautions. Pennridge has issued an email to parents and staff on ways to minimize exposure to COVID-19. According to Mrs. Fenerty, a Pennridge High School nurse, "It has been more debilitating for the elderly population with underlying medical conditions." Therefore, students should not be worried about COVID-19. Senior Madison Farrell says, "I'm concerned for the world, like China, and for people with respiratory issues, but I am personally not worried."
The COVID-19 is a betacoronavirus, similar to MERS-CoV and SARS-CoV. The first cases were linked to a live animal market, but now the virus is spreading from person to person. People who contract the coronavirus tend to get sick with a mild to moderate upper respiratory tract illness, similar to the common cold. People usually experience a runny nose, cough, sore throat, shortness of breath, possibly a headache, and fever. Symptoms can appear anywhere from 2 to 14 days after exposure. The coronavirus is not life threatening for healthy children and adults. People who are over the age of 60 are more at risk for experiencing complications, while people who are 80 years and older are at the highest risk of serious illness or death. People who also have weakened immune systems, or a long-term medical condition such as heart disease, diabetes, hypertension, lung disease, or cancer, are more at risk for serious illness if they catch the coronavirus. There is currently no vaccine for the virus, but the best method of prevention is to avoid being exposed to the virus. The CDC recommends avoiding close contact with people who are sick, and to avoid touching your eyes, nose, and mouth. The CDC also recommends that people should wash their hands thoroughly, for at least 20 seconds.