Fan Favorite Star Wars: The Clone Wars Returns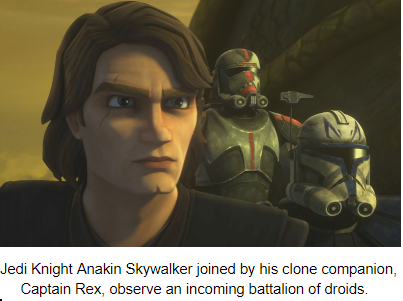 In the past couple of months, fans of the Star Wars series have had a lot to cheer about. In November, the popular Disney Plus series The Mandalorian aired. In December, Episode IX: The Rise of  Skywalker hit theaters. Finally, on February 21, Star Wars: The Clone Wars made its long-awaited return. The show's return is meant to finally bring a conclusion to the fan favorite, as it was left unfinished after Disney bought out Lucasfilm in 2012. Its return has fans very excited. When asked what he hopes to see in the new season, Vincent Soridni responded by saying "[he] would definitely love to see a lot of focus on clones, although they have to wrap up some things like Ashoka's story and Order 66.  Overall, I'm just looking forward to everything."
The seventh season's plot will mostly take place around the time of Episode III: Revenge of the Sith, and is meant to fill in several key moments that lead up to Order 66 not covered in the movie. The biggest storyline is the Siege of Mandalore. Former jedi Ashoka Tano is returning to lead a siege on the city of Mandalore, now controlled by fan favorite Darth Maul. This story was originally intended to be the finale of the show, but never aired due to the show's abrupt cancelation. The show will also feature several beloved characters alongside Ashoka. Anakin Skywalker and Obi-Wan Kenobi will both be returning, along with clone troopers Captain Rex and Commander Cody.  Ashoka is expected to lead the charge for the clone army during the siege of Mandalore. Chancellor Palpatine is also expected to play a role in the new season since Order 66, the killing of all Jedi by the clones, is expected to occur towards the season's conclusion. 
As of this publication, three episodes have been released. Episode 1 – The Bad Batch was released on February 21, and follows four defect clones with amazing abilities which give them elite attributes normal clones do not possess. Referred to as the Bad Batch, they are led by Clone Sergeant Hunter, a clone with enhanced sensory abilities. The squad also includes Tech, a clone with enhanced mental capacity and intelligence and Wrecker, a reckless clone with enhanced strength.  Their fourth member is Crosshair, a clone with brilliant eyesight and excellent sniping accuracy. They are a reckless team that is willing to do whatever is necessary to finish their mission. When asked about what he thought of the new clone troopers, stormtrooper enthusiast Dr. Thomas Wyatt stated "I like the way the team works together and plays to their strengths." Episodes 2 – A Distant Echo and Episode 3 – On the Wings of Keeradaks continue and finish the mission that these clones were assigned. 
These three episodes are just the first quarter of the twelve episodes planned to be released. Thus far, the show's return has been everything fans were expecting and more, and it looks as if it will stay that way. Each new episode is released weekly only on Disney Plus, airing every Friday at 3p.m.
About the Writer
Brian Towsey, Student Writer
Grade 12

Interests - Involved with Boy Scouts, chess club, and volleyball, also likes hockey, football, and basketball
Hobbies - Hiking and kayaking
Goals...