Easter Bombings
Hang on for a minute...we're trying to find some more stories you might like.
More stories from Sean Yoder
Most people use Easter as a time of celebration and self-reflection of one's faith.  That was not the case this Easter in Sri Lanka, a small island country in South Asia.  On April 21st, Easter morning, three churches and three luxury hotels were bombed. 359 people were confirmed dead and hundreds more wounded.  Many believe this was an attack on Christianity, an attack on one of the religion's most celebrated days.  The State Minister for Defense said investigations show the attack was carried out in retaliation for the Christchurch mosque shootings in New Zealand.
The Islamic State claimed responsibility for the attack, which was carried out by seven fighters who targeted Christians. Sri Lanka's government quickly shut down several social media platforms such as Facebook, WhatsApp, Instagram, Youtube, and Snapchat in order to avoid the spreading of misinformation or inciting more violence.  President Maithripala Sirisena said the government has given additional powers to the police and security forces to detain and interrogate people who are believed to be involved with the attack. The number of people arrested for supposedly being connected to the attacks rose from 24 to 40 in just one day.  A curfew was imposed by the government for the second day in a row, from 8 p.m. to 4 a.m.
The aftermath of the Sri Lanka bombings are still in effect.  Hundreds of individuals and many families have been impacted and are still devastated about the tragedy that occurred Easter morning.  Police spokesman says they will conduct private raids if necessary and encourage people to cooperate with the operation.  He also went on to say how the authorities are not going to take many risks in the next few weeks.
10% of Sri Lanka's population is Muslim.  Muslims are being targeted and isolated from the rest of society.  The Muslim population is fearing there will be further retaliation, causing harm to their people.  The security forces in Sri Lanka have requested that all churches will be closed until further notice.
Sri Lankans are currently scared and do not know what to expect.  The police are doing everything in their power to get behind the bombers and bring them to justice.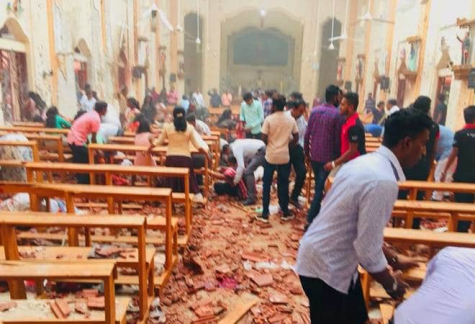 About the Writer
Sean Yoder, Student Writer
Sean is currently a senior at PHS. He enjoys playing and watching sports, friends, and eating food. He plans to attend the US Naval Academy next fall.