Giovanni Ferraro, Student Writer
February 17, 2020 • No Comments
The year 2020 is upon us and so are digital apps that can track your every movement. Parents around the world have a constant bird's-eye view of their children. The exact speed at which you are driving can be directly monitored....
Macy Price, Student Writer
February 17, 2020 • No Comments
For the last decade, as cell phones have continued to improve and become more advanced, human usage steadily increased along with it. With new apps, social media, and texting, people are staring at their phones all day, everyday....
Alex Lippmann, Journalism Student
April 26, 2019 • No Comments
In the U.S over 37,000 people die in road crashes each year. Safe driving could save so many people's lives so why don't we do it? Teenagers take their life for granted when...
Johnnie Banks, Journalism Student
April 5, 2019 • No Comments
Widely regarded as America's favorite appetizer, wings are a staple in the diets of most people across the country. With thousands of combinations for different sauces and locations...
Tuesday, March 26

Softball

Pennridge High School 4 - Hatboro Horsham 1
What is the best part of summer?
No school! (75%, 12 Votes)
The pool/beach (19%, 3 Votes)
I'm not a fan of summer (6%, 1 Votes)
The warm weather (0%, 0 Votes)
Total Voters: 16

Loading ...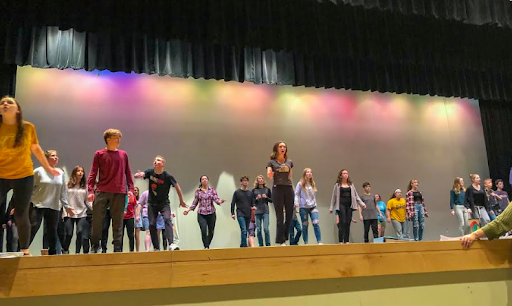 Kelly Roland, Student Writer
February 13, 2020 • No Comments
Pennridge High School Theater takes on another year of breathtaking, magical, and incredible productions. With about 20 seniors in the upcoming musical, Into the Woods, they are...
Miranda Hoch, Student Writer
May 7, 2019 • No Comments
April-May Secret Teacher Feature By: Miranda Hoch Every student has their favorite teachers. Students take the year to get to know them, as the teachers try to get to know...
Brian Towsey, Student Writer
February 17, 2020 • No Comments
One month away from tryouts, Pennridge Men's Volleyball is working extremely hard to prepare for the upcoming season. The team is looking to bounce back from an up and down season...
Julie Trautner, Student Writer
February 17, 2020 • No Comments
The Pennridge Boys Basketball Team's hard work paid off on Tuesday, Feb. 4th when they won the division title against Central Bucks East. It's with no doubt that a huge portion...