Once in a lifetime opportunity- A Pennridge Student goes to State of the Union Address
Mathew Sheldon, Staff Writer
February 27, 2019
Hang on for a minute...we're trying to find some more stories you might like.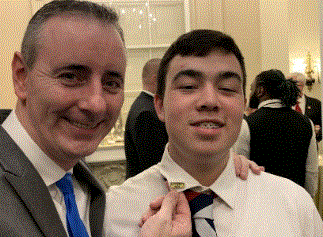 There are many 'once in a lifetime' opportunities, maybe it's front row tickets to your favorite band, or seeing your favorite team in the championship; for a student at Pennridge, it was going to the State of the Union Address with the Pennsylvania State Congressmen. Justin Lyons and his mom, Tracy Cangro, were able to go with Brian Fitzpatrick to the State of the Union Address that was given by President Donald Trump.
Lyons and Cangro had lost their brother and son due to an overdose in July of 2016, and, Fitzpatrick, the new chair of a heroin task force, hopes to continue fighting the opioid epidemic in Congress this year. The experience was also an opportunity for Justin to honor his brother, Jared Lyons, who battled addiction and died at age 20 after injecting fentanyl into his arm.
Since the death of her son, Tracy Cangro, has been volunteering at Angels of Motion. Angels of Motion is an organization that started with one woman's efforts to rescue her child from the disease of addiction. While searching the streets of Kensington, a neighborhood in Philadelphia, for her son, Carol Rostucher saw that many other children and loved ones were lost, suffering with addiction as well.
Lyons and Fitzpatrick went to the State of the Union hoping President Trump would talk about the opioid epidemic and how he plans to help.
Fitzpatrick was named chair of the Bipartisan Heroin Task Force last month and looks forward to using this new leadership role to push impactful, bipartisan policy initiatives to fight the opioid epidemic. Fitzpatrick previously said that task force members will consider health care, insurance, law enforcement and mental health policy solutions to the opioid crisis. He also stated that he intends to invite local constituents and experts to testify and give the community a platform.
Last year, Fitzpatrick supported multiple pieces of opioid-related legislation, co-sponsoring a bill signed into law to increase chemical screening resources for border officers scanning for opioids. Language from two other measures he co-sponsored, including the federal government  outreaching on prescription practices and supporting state prescription drug monitoring programs, were also included in a larger opioid treatment bill that became law.
Mr. Busch, who has been teaching Government and Political courses for 19 years, describes the State of the Union Address as a "requirement by the constitution to address congress each year on the state of the union and another purpose is for the president to ask congress to pass legislation he or she favors".
The congressman took Justin out for lunch in the House members' dining room with Democratic Rep. Conor Lamb of Pittsburgh. He later introduced him to members of the Bipartisan Heroin Task Force, of which Fitzpatrick serves as chairman. "It was really sweet meeting Brian Fitzpatrick. He is a really nice guy," says Lyons. "They treated me really well; they gave me a fancy dinner and everything".
Brian Fitzpatrick had a great time with Justin Lyons and his mother. He even hopes to make bringing a student from the Pennridge School District to attend the State of the Union Address with him a tradition.