First Dates
Hang on for a minute...we're trying to find some more stories you might like.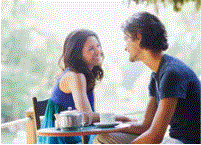 Many people would describe their first date as awkward, or at least they expected it to be very awkward. First dates are something that almost everyone has to experience. Having no prior knowledge or experience regarding going on dates can make it very nerve-wracking. You could be especially nervous if you do not really know the person that well or you really like them, but you are unsure about how they feel about you. First impressions matter and most people will make their judgement about someone on the first date. First dates are not something you should get worked up about. In a survey of a few high school seniors, many of them said that it was fun and they had a good experience overall. Most of them said they were pretty nervous going into it, but they are happy with how it went and the nerves were all for nothing.  
To help gain more perspective about others first dates, two people were interviewed and asked to describe their first date. During an interview with J Bennington, he said "My first date was when I was in 10th grade and I went to the Perk for dinner." Also when asked to describe how his first date went he said, "My first date went really well. Overall, I would rate it a 9 [out of 10]." John Winstanley, a chemistry teacher at Pennridge, said his first date was "grade 10, We went to the movies. I think her mom drove us. Nothing uncomfortable about that at all" Describing how his first date went, he said, "Really awkward. I was not much of a conversationalist. She was. I would rate it a solid 7/10 for awkwardness."
For those who have not had their first date, a survey was sent out to figure out what advice those who have been on their first date would give. After collecting data from high school seniors, they mainly said to be yourself. They also said don't be nervous, because it normally ends up going better than you expect. A few people said it is important to look good and go somewhere nice to make a good first impression. An essential part of a first date is that both parties are aware of what it is. If you think it is a date, make sure it is clear because you don't what to get the wrong idea just from a friendly hangout situation. John Winstanley said his best piece of advice for someone going on a date for the first time would be, "be very clear about your feelings and expectations. Speak in person, don't text."
Looking for a place for your first date? In Bucks county, there are many great places to go on a first date. Some suggestions for Doylestown are Nina's Waffles and Sweets, Regal Barn which is a movie theater, Jules thin crust pizza, and this is a great area to just walk around or shop too. Peddlers Village is also a short drive away where there are a lot of places to shop and places to eat; this is also the perfect place to just walk around. Doing something outdoors, weather permitting, is also a great casual first date. There are parks like Peace Valley and Nockamixon. At both these places you can rent kayak/paddle boats, walk around, have a picnic, or just hang out. The best first date would be going somewhere or doing something that you both would enjoy. Have fun!
About the Writer
Jessica Tiedeken, Student Writer
Jessica is currently in twelfth grade at PHS. Her goals are to study biology in college and then go on to med school. She also wants to travel the world...