The Fightin' Phils
More stories from Cam Daly
The 2019 Major League Baseball just started, and Philadelphia fans have high hopes for this season. Baseball in Philadelphia has been in a drought considering the Phillies have not went above .500 on the season since 2012. In recent years the team has been rebuilding and experimenting with different players trying to find the right fit and fans are hopeful this year is the beginning of an era of good Philadelphia baseball.
The Phillies were active over the offseason acquiring players such as Jean Segura, J.T. Realmuto, David Robertson,  Andrew McCutchen, and of course Bryce Harper. The Phillies were a poor baseball team all together, lacking on the offensive and defensive side. The major offseason additions revolve around the offensive side, but the defense did see some improvements as well. The Phillies signed all-star, Bryce Harper, to a 13-year contract worth $330 million.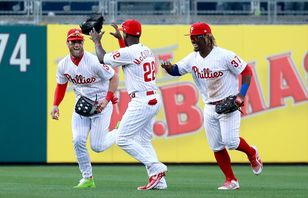 Harper is a big-name player who adds a significant amount of offense as well as helps the team morale.  Harper was won the MVP award, rookie of the year, silver slugger, and he is also a 6 time all-star. The Phillies also added left fielder Andrew McCutchen. McCutchen is a very solid outfielder who had a very successful career in Pittsburg. Both of these additions help solve the Phillies outfield dilemma from last year. Last year Rhys Hoskins played left field despite his true position being a first basemen. This caused a lot of defensive issues in the outfield, but the new additions to the Phillies help this situation. Throughout the first few games of the season, the outfield was McCutchen in left field, Odubel Herrera in center field, and Bryce Harper in right field. The Phillies pitching system and bullpen is under question. Starter Aaron Nola is the Phillies top pitcher with young pitchers such as Zach Eflin getting into the rotation. On paper the Phillies lineup looks promising, but it truly comes down how to players actually perform on the field.
So far with the Phillies 10 games into the season they have managed a 7-3 record and are a half game above the Atlanta Braves in the NL East. The Phillies winning record so far is mainly due to the impressive offense and the pitchers lower in the rotation performing well. Bryce Harper is performing as Phillies fans have hoped. Harper currently has 4 home runs and 8 RBI's through 10 games. The Phil's cleanup batter, Rhys Hoskins has performed tremendously on offense so far, boasting 5 home runs and 15 RBI's through 10 games. One current concern for the Phillies is the awful start to the season for their main starter Aaron Nola. Nola started the season opener well but since let up 6 runs in just 3 innings on the mound before being pulled in his second start of the season. Overall, the 2019 Philadelphia Phillies are on track to do well this season and bring baseball back to life in Philadelphia.