Tips on Getting Ready For Prom
It's prom season ladies and we all know that it empties our wallets. You have to buy a dress, shoes, get your nails, hair, and makeup done; we can all say that it all adds up and it's sometimes more fun getting ready for prom than the actual prom. The first thing is pretty obvious, you need a dress. Dress shopping is my favorite part of the whole process for prom. I love going to different stores, trying on several styles of dresses, and then finally saying "this is the dress." I highly recommend shopping for your dress in advance, so you have plenty of time to find the one that fits your personal style and the prom vibe you're going for. Also, just in case you have to get it altered because depending on the dress shop it may take a couple of weeks to have it done.
I know prom dresses aren't the cheapest so there are alternatives to buying a high-end dress. There are many consignment shops that offer prom dresses for a lower price. Many stores have dresses for lower prices, just find out your budget. I suggest building a budget before you start so you don't just end up splurging your money, speaking from experience. Finding a dress you feel good in is the most important part and you can get carried away and just try on everything you see. Then you look at the price tag and it's a $600 dress. But, you absolutely love it and it's hard letting a gown go that you feel great in. The whole process starts with your budget. So, you can start by looking at the different shops within that budget.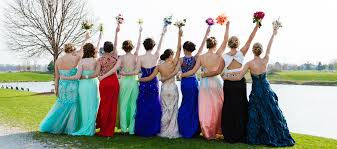 After you find your dress I like to find my accessories, an important part of your ensemble, prom jewelry accents your gown and enhances your personal style. You may want to follow these basic rules: If your dress has classic gold or silver embellishments, it's best to stick to prom jewelry with a similar color scheme. From head to toe, keep the same color tones. If you want to match your jewelry to the sparkling accents on your dress, rhinestones reflect better with gold and pearls go best with silver. We spoke to Emma Foster and she said she," likes to get her jewelry at Amazon or from family friends".
So you have your dress and accessories, time for your hair. Whether you have long or short, curly or straight, thin or thick hair, finding the perfect hairstyle is key for completing your look.  How can you match your prom hairstyle to your prom dress? If you have a halter, one-shoulder dress, or an open-back dress, you might want to wear a low or high bun, an elaborate cluster of curls, or even a side-sweeping style with cascading curls. If your dress is simple, adding a bit of bling to your hairstyle with hair accessories for prom is a fun option, like jeweled clips. If your dress has a bohemian vibe or if it's just strapless, wearing your hair in long loose curls or beach waves would look best. There are many salons around but Emma Foster goes to Bliss Hair Salon for her prom look.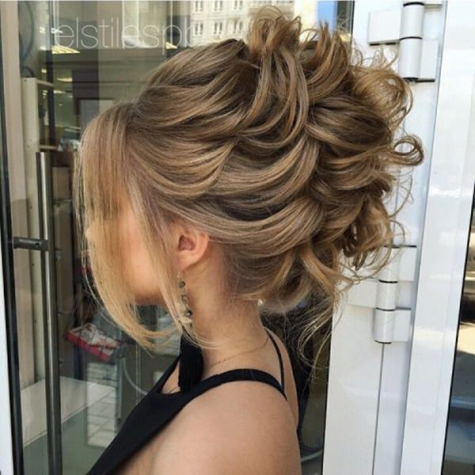 Mani and Pedi time! Happy hands and happy feet are a must to complete your gorgeous prom look. Whether you are looking for a clean, natural, or polished look on your hand and toes to compliment your dress, here are some tips and different ways you could get your nails done. Many people have the skill to paint their nails themselves so that's what they do for prom, but if you're like me, who just can't, then going to the nail salon will be the best option. I highly recommend Coco Nails; they are super nice and cheap. If you're a student you get a discount, like you can't beat that. I've been going to them for a couple of months and I love them. If you have your own salon you prefer that would work as well. Prom season is a busy season for salons so make your appointments ahead of time.
Finally, the last step, makeup. This process is similar to the mani/pedi process, you could do your own makeup or a friend can do it. We spoke with Hannah Holton, a graduate from Pennridge, who does teenagers makeup for prom. We asked her how much she charges and she said " around $25-35." She supplies her own makeup, so you don't have to worry about lugging your makeup to her. Depending on your dress, skin tone, and taste plays a part in what kind of look Hannah will apply. It is cheaper to go to someone you know, but if you don't have that access and think it is easier to just have it professionally done then there are many beauty salons around that are willing to do it. Just a pop of color on the lips or a touch of powder goes a long way, making the skin glow and the confidence show.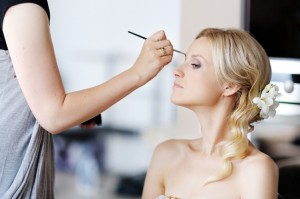 You definitely don't have to do all of these services, whatever makes you feel confident. I wouldn't want you to be someone you aren't comfortable with just because it's what everyone else does for their prom. In the end, it's all about how much fun you have with your girls or boyfriend. I hope these tips are useful. Happy prom season!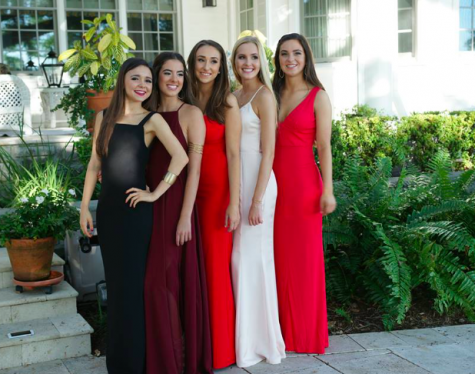 About the Writer
Melissa Wilms, Student Writer
Melissa is currently a senior at PHS. Her interests include baking, shopping, drinking coffee, watching hockey, and socializing. Her goals are to build...