Senior Week Locations
Hang on for a minute...we're trying to find some more stories you might like.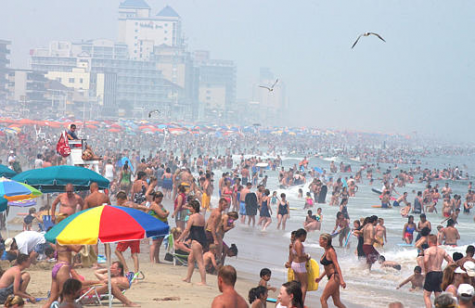 Senior year is filled with events marked as "a rite of passage". After all the stress of grades, the fun of prom, and the excitement of graduation, most students wrap up high school with senior week. Senior week is a vacation that students take at the end of June. Christian Perrine, senior, said "I'm very excited to not have to worry about anything for a week and just chill…Its all about good friends and good times". While some students go to mountain houses or maybe even go backpacking around different states or countries, most seniors go to beach locations and often go to one of the three most popular beaches. However, choosing the right location for you and your group can be really difficult.
Ocean City New Jersey
This beach is a ton of fun. Beaches are open with lifeguards on duty until five p.m. every day during the summer season and while a day pass does cost five dollars, it is completely worth the money. After a day at the beach, the town is a great place to go. There's a fantastic boardwalk with plenty of games, rides, restaurants, and shops. There's even a tram you can ride when you get tired. With no alcohol allowed on the beach, and no bars or tattoo shops on the boardwalk, a lot of families review this beach as calm, clean, and perfect for a relaxing, low key vacation with the kids.
Ocean City Maryland
Similar to Ocean City in New Jersey, this Maryland vacation spot is a great choice for a relaxing getaway. The beaches are clean, there's even a group of citizens that goes out almost every night in order to help clean up the beach and keep it nice. This beach also has a great boardwalk to go to after a fun day at the beach. With rides, food, games, and shopping, it is impossible to get bored. This beach is a little more popular with teens than Ocean City New Jersey, but still very family friendly as well. It's a little farther away than New Jersey but is definitely worth the drive.
Wildwood New Jersey
Wildwood is a definite hot spot for senior week vacations. This is a very populated area in the summertime, and you will find lots of younger crowds and teenagers here as opposed to the family-oriented crowd at the prior two beaches. When asked about why she was going to Wildwood, Jenna Lund, senior, said: "My friends chose it and I went along with it". Seems like teens just gravitate towards Wildwood even when they don't know why. This beach, like the others, has an exciting boardwalk with plenty to do, eat, and buy. The beach itself gets some mixed reviews. People say its mediocre with cleanliness which is not the best thing to hear. However, the beach is free, and they even have fenced in dog beaches for all of your puppy friends. The average amount of dirt can be over looked for a free good time.
Senior week can be a ton of fun. It is a great way to finally relax after a crazy year and before a new chapter in your life. Get together with a good group of friends and explore somewhere new. The location of a vacation can sometimes make or break how the week goes. You want to make sure you pick the right beach for you and your friend's personal preferences. You never know what location might catch your attention but these three are definitely turning heads. Remember have fun and stay safe.
About the Writer
Miranda Hoch, Student Writer
12th grade, interested in art, music, and theater. I paint, draw, sing, play a couple instruments, and have been in 2 of the high school musicals; Addams...