Road to a Productive Summer
More stories from Nicolette Harrison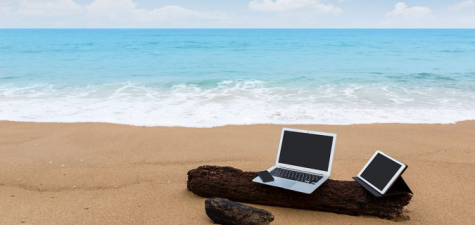 The best way to have a good summer is by being productive. Although, the realization of an empty schedule can push us into a stage of laziness, unproductivity, and ultimate relaxation. Not to say you can't relax because that is a big requirement in summer but, let's push ourselves to make it the best. Liz Saldutti, a Pennridge High School student, tells us she plans on having "a jam packed summer before college." That's the spirit we all need! Being productive doesn't have to be torture either. There are entertaining ways to go about it build your resume!
A basic way to fill your schedule is to volunteer! Find an organization that pertains to your likes and interests. If you like the outdoors, research volunteer organizations that are based on doing work outside. Not only is volunteering great for your community but it is a great thing to be able to put on your resume.
For the travelers out there, traveling is a great way to make your summer productive. A classmate, Katie Romeo took up the opportunity to go on a trip of a lifetime her summer before college. "I will be exploring Italy this summer," she said. However, you don't have to travel to a foreign country to consider it a successful travel trip. Simply try taking a trip to your nearest city and exploring the history it holds. It isn't difficult to use adventuring as productivity.
Although this word may be scary, it could be a golden ticket to a future job: internship. Research and choose one that relates to your interests because experience in such a field is very significant and helpful. Once again, it is extremely beneficial to put on your resume.
The extra time summer gives us can push us towards creativity. Try something you've never done before. Make yourself even more unique than you already are. Some examples could be learning how to sail, learning how to play an instrument or even learning a new language. Skills like those make you, as an individual, stick out. Get creative this summer and broaden your horizon.
Lastly, you can make your summer productive by getting ahead. Sign up for a summer class at your local community college. Get ahead with your college credits so your schedule can open up during the school year. Therefore, you have space for more classes or just more time to focus on the classes scheduled.
Whatever method works best for you, go at it with an open mind. Make the best of your summer and your abilities. You never know what you're capable of until you try! You could end up helping yourself in the long run. Do the most now to make it a little easier on you later. Take advantage of your summer break and make the most of the time you have!
About the Writer
Nicolette Harrison, Student Writer
12th grader, interested in soccer, ski and board, photography, videographer, traveling, good books, the beach. Nicolette is also committed to play soccer...