College Alternatives
May 1st, National College Decision Day, marked the beginning of a journey for thousands of students attending college. Many students posted on Instagram, Facebook, and other social media to celebrate a monumental decision. However, many students make plans for the future that do not include attending college.
According to the Bureau of Labor Statistics, in 2018, roughly 30 percent of high school seniors did not have plans to attend college. Within that 30 percent, some may have made the decision to take a gap year, attend a trade school, go into the workforce, and much more. Students like Senior Gabby Myers, who plans to take a gap year, feel that taking a gap year can be beneficial to students, "I have no idea what I want to be when I grow up. I don't think anyone really does at this age and I don't know how we're expected to. I want to travel and learn about myself and experience more things before I hop back into school." There are programs such as Rustic Pathways that offer gap years for students with incredible travel opportunities.
As college tuition and student loans continue to rise, many students wonder if attending college is worth the expense. A great alternative for some students is entering a trade or technical school. These schools are shorter, cheaper, and teach you a specific trade. The options range from Cosmetology to Mechanical work. Those who learn a trade can be extremely successful and find great pride in their work. Although, it is not the academic setting that college is, trade school is challenging and time consuming. Jason Gordienko, a Field Service Representative and trade school graduate, feels that, "Although I gave up my 20's, I now have the opportunity to enjoy the rest of my adult life. I don't have the weight of college debt on me."
Joining the Military can be a great option for some students. Some may find lifelong careers in the Military, and others may choose to go to college after serving time. Military branches may even offer to pay for your college tuition after serving a certain amount time.
There are still various other options. Some students may go straight into full time work, and others may even have family businesses to get involved in. Many students feel pressured to attend college and have their lives planned out. However, the reality is that college may not be a good fit for everyone. Even though it is the "norm", it is important to do what makes sense for you and your interests.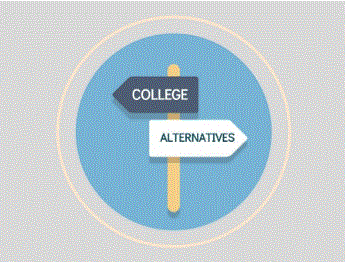 About the Writer
Grace DiGirolamo, Student Writer
Grace is currently a senior, and she enjoys hanging out with friends, traveling, and running. She would like to go to college for Neuroscience.