3 Day Trips You Should Take This Summer
Hang on for a minute...we're trying to find some more stories you might like.
The summer is approaching fast and we all want to make the best out of the limited amount of days before we all leave for college or other future plans. When planning what to do this summer, consider taking short day trips to Philadelphia, Belmar Beach, and Bushkill Falls. Because of the short drive, it is perfect for a quick trip that will create lifelong memories without draining your bank account.
Bushkill Falls is a great destination for a day trip with your family or friends. The beautiful falls are only an hour and a half away making it easy to get there and back, and wouldn't take all day. The serene location in the Pocono mountains provides a variety of trails and wooden bridges that surround eight waterfalls! Also known as the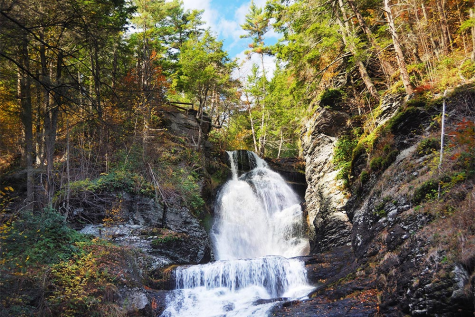 "Niagara of Pennsylvania" the falls are a safe place to hike while taking in the breathtaking views and scenery. Make sure to visit the primary observation deck to view the largest main waterfall. There's also places to eat, shop, fish, and even paddle boat! Consider packing a picnic lunch to enjoy the natural ambiance while saving a little money. Recently Glen Onoko, a local waterfall near Pennridge, closed. The closing gives you the perfect opportunity to visit waterfalls that are not dangerous but still provide an enjoyable experience. Even if you are an extreme hiker or just a beginner, the trails vary in difficulty allowing for each person to be comfortable and safe while hiking. Check out the weather before you plan Bushkill for one of your next day trips.
If you are one who loves the beach but hates the drive, Belmar Beach is a great compromise! With a small boardwalk and clean, uncrowded beaches, it's a great shore point for a day trip. Belmar Beach also is the home of the original Playa Bowls so it's a popular destination to fuel up on a delicious smoothie bowl. Student, Ethan Lionetti, visited Belmar Beach this past summer and said, "The thing that felt unique to me was the fact that the people around you did not invade your space and there was no one making any loud noise." He also said that "the ride to the beach felt very short" due to the fact that it only took one and a half hours to get there. The only coast for this needed beach day tip is a beach tag. So if you're looking for all of the fun aspects of a beach trip without the long drive, pack a cooler and some snacks and head down to Belmar Beach!
Lastly, if you are a city lover, take a quick train ride to Philadelphia for the day! There are plenty of places to eat, shop, and explore the extensive history of Philadelphia. A round trip on the SEPTA train is only $13, and there are multiple options for times. The beautiful city of Philadelphia has plenty of history and culture everywhere you look. You can visit the Liberty Bell, tour City Hall, stroll around the Museum of Art, and explore the Franklin Institute. Don't forget to stop in the Reading Terminal Market where all your favorite food desires await. There is always something for you to do in the City of Brotherly Love that will allow you to create lasting memories. A fellow student, Morgan Biresch loves to go on day trips to Philly to shop, eat at good restaurants, and explore the parks located all around the city. Morgan said, "I love to go to the hammock park located in Spruce Street Harbor Park during the summer." There are many hidden gems in Philadelphia that you won't see online, so make sure to go explore the city for yourself. Make one of your day trips to Philadelphia this summer and it will leave you wanting to come back for more!
About the Writer
Alex Lippmann, Student Writer
Alex is a current senior who plays field hockey and lacrosse for the school and also participates in National Honors Society. She hopes to attend college...