Upcoming Women's Lacrosse Season
March 4, 2020, marks the official beginning of spring sports at Pennridge, but Women's Lacrosse has been preparing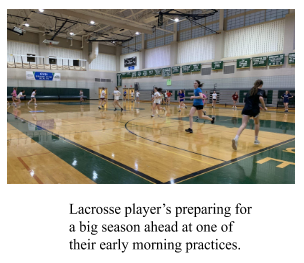 since July. The team seems to be looking forward to a new season, and they have been working hard to accomplish their goals for this year. The Lady Rams had a difficult season last year with a 5-12 record, but this year they want to come out of the season winning.
The 2019 season had 10 seniors and many new players who they were hopeful about, but they were lacking cohesion. What they were missing were strong leaders. This season they are looking for more unity and Head Coach Feher, who has been coaching for 10 years with 6 at Pennridge, said, "We're really trying to blend the classes this year so it's one cohesive unit." Team unity is essential in all sports and Coach Feher, Maddie Banks, a senior, and Wendy Li, a junior, expressed their desires for an increase in communication and harmony both on and off the field. 
Included in the ten seniors who graduated in 2019 were Alexa Machado, Avery Meiners, and Jenna Lund. Alexa Machado was the starting goalie all four years of her high school career, a difficult role to fill, but senior, Shaylin Banks, will be stepping in as goalie this year. Avery Meiners was a strong defender, and the team is hopeful that Lauren Rush, a sophomore, will be a strong defender this year for the team. Jill Csaszar, a senior, will be the attacker this year in place of Jenna Lund who graduated in 2019.
Maddie Banks shared that all of the seniors this season are stepping up to teach the underclassmen how the Pennridge Women's Lacrosse program works. She is very excited about her last high school season and expressed the value that has been gained from all the hard work that has been occurring since July. She said, "We have a lot of really talented players who have been putting in a lot of work during the offseason." Their dedication and unity that they have been building will hopefully reflect strongly on their record and scores this year. 
CB South is the rival of the Pennridge lacrosse team; they lost to them by 2 points in a 10-8 game last year. Feher attended CB South in high school and was coached by their current coach, which has created a strong desire for the Lady Rams to defeat South this year. On top of beating CB South, the team would like to come out of the season with more wins than losses and make it to playoffs this year. They fell short of playoffs in 2019 and are ready to fight to make it back into them this year.
Coach Feher expressed that although she loves seeing the team win, what is most rewarding is seeing the players grow and mature through the years, then go to prom and be accepted into college when they are older. She has been preparing and devoting her time to the team since July in order to get ready for this season. All of their hard work is leading up to the official beginning of the season this week; excitement and anxieties are peaking. The team has their first game on March 20th. Two scrimmages are scheduled on the 11th and 18th.
About the Writer
Abby Nuneviller, Student Writer
Grade 12

Interests/ Hobbies: Mini-THON, Water-polo, Swim team, NOVA

Goals: Attend Liberty University in August,  studying secondary education