Keeping Busy During Quarantine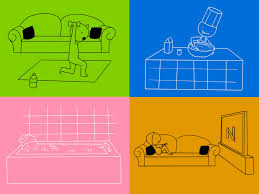 Being quarantined isn't anyone's idea of fun, especially if you're an extrovert like us. While we may be confined to our houses, that doesn't mean there isn't plenty to do. Here are 10 activities you can try while stuck at home.
Exercise
Being stuck at home is the perfect time to get in shape. With sports and other activities being cancelled it is important to get your body moving. Exercising can not only improve your physical health, but your mental health as well. Some at home workouts you can do include: walking or jogging, push-ups, sit-ups, squats, and burpees.
Arts & Crafts 
With all this time on your hands, you might as well get creative. Try drawing something around you, or painting on an old piece of clothing with acrylic paint. Your imagination is the limit! 
Video Chat with Friends
For many teenagers, it is hard to be without your friends for a long period of time. Fortunately, with modern technology you can talk to your friends at the click of a button. You and your friends can talk about everything from the latest show you watched, how online schooling is going, or even just talking to each other while cleaning your room.
Cooking/Baking
With all this extra time on your hands, it might be fun to try a new recipe. Whether it's cooking or baking, you can experiment with old recipes or new creations. No matter what you make, make sure you wash your hands before handling the food!
Play Video Games
Video gaming is a fun way to play with your friends from the safety of your own home. You can talk with friends while you're playing via the console or over video chat so you can socialize as you play. You can also try out a new game that you haven't had time for or beat a game you've never been able to beat before.
Self Care 
It's easy to let yourself be lazy during quarantine, but it never hurts to implement a daily routine to follow to take care of your mind and body. Try a new hair product you've always wanted to try, or do that long skincare routine you're always avoiding. Maybe go for a walk or just sit outside and enjoy the fresh air. 
Photoshoot
Having a photoshoot is a fun way to play with styles you might otherwise avoid. Just set up a small area and play around with outfits, hair/makeup, and props to see what works best.  Once you're done, you can post them on your social media so your friends can see what you're up to.
Clean Up 
Sure, cleaning may not be the most interesting activity, but cleaning up your room or organizing things could keep you busy. Try picking a single part of your room, like your closet or dresser, and organizing everything in it and cleaning up around it, and then moving on to other small portions. It's better to work in small sections so you don't get overwhelmed or bored too quickly. 
Practice an Instrument 
If there's any instrument you own but you haven't gotten around to playing much or getting good at, now is the perfect time to do so. Looking up tutorials on YouTube is a great way to get started- and there are many apps to help you learn as well. If you already know how to play your instrument. Spend some time working on a piece of music that's been tripping you up. Whether you're a beginner or a pro, you can just have fun with it. 
Learn something new 
From learning how to do a cartwheel to brushing up on your Spanish, this is the perfect time to learn something you've been meaning to work on but haven't had the time to do. You can google just about anything you want to learn and you'll be able to find information on it. Then, you'll come out of quarantine with a new skill or cool piece of information! 
Staying active while stuck at home is important for your mental and physical health.