Ziplining over the Smoky Mountains
Many people find zip lining to be very intimidating and dangerous, especially if they don't like heights. I was hesitant too until I spent two hours on an adrenaline-fueled experience, soaring hundreds of feet above mountains. Last summer, my family took a trip to Pigeon Forge, Tennessee where we participated in various activities that we have never done before. One of my favorites was zip-lining 250 feet over the Smoky Mountains. Between the beautiful sights, amazing tour guides, and the thrilling feeling of flying across the mountains, this moment will never be forgotten.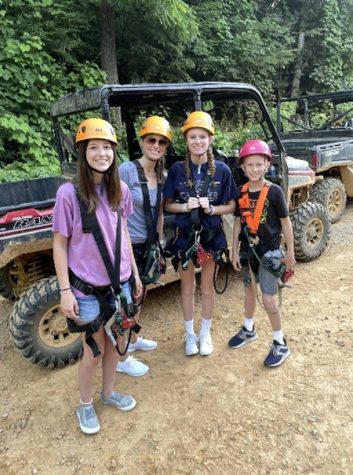 Pulling into the parking lot, my heart was racing. I had never done something like this before and didn't know how I was going to react to the heights. When putting on the harness, I was surprised and slightly concerned that it was extremely loose. I couldn't imagine it was secure enough, but the guide assured me that the harness needed to be loose. When we went outside, we saw three muddy ATVs. To our surprise, we were told that we were going to ride these up the mountain to our first line. A guide drove us up a dirt trail that you would expect to encounter on a hike. It was very steep, and there were a couple of times I felt like we were going to start rolling backward down the mountain. Although there were huge ditches, tree roots, and sharp bends all the way up the path, the ride was much smoother than it would seem. My brother Noah said, "Riding the ATVs up the mountain was equally as great as ziplining". When we reached the top, my right leg was splashed with mud, and I was already having a great time.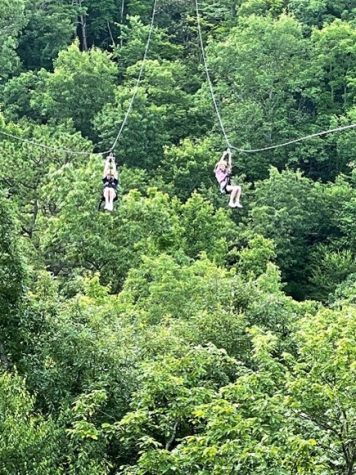 We had to climb up a tall, rickety flight of stairs to get to the first line. Walking up them, it felt very unstable. We approached the first line, and it was hard to imagine that my life was about to depend on the tiny, sagging cable stretching hundreds of feet in the air. I will never forget the moment I stepped off the first platform and began to glide over the super thin cables. There was no doubt in my mind that the cable wouldn't hold me. I was curled in a ball to reach maximum speed. The wind blew so hard in my face it was hard to keep my eyes open. My fear was immediately gone when I felt the harness catch me and I saw the majestic mountains surrounding me.
On the fifth line, my sister Emma was not heavy enough to make it all the way to the end of one zipline, so she was stuck hanging over the mountains waiting for a guide to go out and bring her in. She wasn't afraid at all and said, "it was a really cool experience because I got to hang in the middle of two mountains for an extended period of time". The guides were constantly making us laugh and played a huge part in making this experience one I will never forget. They told engaging stories about their experiences as tour guides and even told us about a bear family that lives in the mountains below our feet. At the end of the seventh line, I was disappointed it was already over. I would love to do another zipline course and would recommend it to anyone.