Blast from the Past
High schoolers look back at some of their favorite childhood toys
Toys are an integral part of our lives, especially throughout childhood. They shape our childhood and can help children learn different skills throughout their lives. They teach children about sharing, which is a skill that is used tremendously throughout life. Additionally, toys develop their motor skills and support creativity and imagination. They also are parts of many fond memories and can act as comfort items. There always seems to be new "it" toys throughout every generation, toys that seem to captivate the attention of each child. Popular toys that impacted many current high schoolers are Silly Bandz, Rainbow Looms, and Nintendo DS's.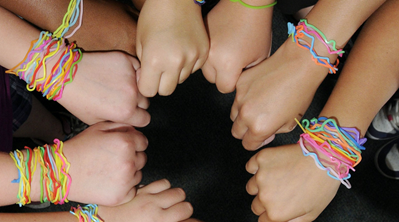 Silly Bandz grew in popularity around 2009. They were rubber bracelets with a variety of adventures to choose from. From tie-dye sparkly giraffes to bright neon stars, the choices were endless. This is what drew the attention of the public. Adria Silber, a junior at Pennridge High School, nostalgically looks back at the 100th day of school project when she brought in 100 Silly Bandz. "I remember having the bracelets completely up both of my arms, and even then, I still wore a necklace made out of them," shares Silber. Silly Bandz were usually seen as collectible items that would encourage kids to trade them with one another. Neha Bhardwaj, a senior at Pennridge High School, remembers her extensive collections of Silly Bandz. "I used to treat this as a business. I would always be on the lookout for new designs and colors. I had boxes filled to the brim with them. I would go to school, and the task of the day would be wondering if it was worth trading my yellow hippo for a neon pineapple. I took this business seriously", said Bhardwaj. In a way, these bracelets helped bring us together. With the swapping and sharing, we learned as kids to express ourselves and what we wanted. These bright designs and vibrant colors helped broaden the scope of our minds and be imaginative.
Rainbow Loom grew in popularity around 2013. These were kits with which one could make various rubber band bracelets. The large variety of bracelets one could make through different methods posed as "challenges" for people to try to achieve. "I remember always watching YouTube trying to learn a new design. I liked how it was a mental exercise and it challenged me to test my bracelet-making limits" said Austin Rosypal, a senior at Pennridge High School. Rainbow Loom inspired people to be more adventurous with their creations. "I think one of my most creative designs was a sock. I spent hours making this rubber band sock which did not turn out the best, but I felt like I was really able to make something", shared Bhardwaj. This power to take a couple of rubber bands and create them into something new brought about the popularity of these rubber band kits. They allowed kids to explore new methods to create whatever they could imagine.
Nintendo DS's grew in popularity around 2007. These were handheld gaming systems that allowed people to buy "game discs," which would be put inside the console and allowed them to switch out which game they would want to play. Their small compact design allowed them to travel easily, which was significant for their popularity. "I remember being at the doctor's office for my flu shot, which I was very nervous for, but that year I brought my DS with me. I was playing my racing game, and before I knew it, I had already gotten the shot. I was so intrigued by my game that I was easily able to get my shot", shared Bhardwaj. The Nintendo DS sparked lots of popularity through the wide range of available games. There are precisely 2,685 games that are compatible with the Nintendo DS. "I liked how I was able to switch out games and pick the games I liked. I felt like there was no way to be bored of my DS since there was always a new game out there" said Silber. The power to play a game from a wide selection in a travel-friendly way brought about the popularity of these gaming systems. They allowed kids to explore various games and choose their own adventures.
Toys allowed us to be free and put our creative energy to work. Through them, we were able to learn essential skills and life lessons. "I feel like most of my childhood, I just remember playing so many different games, and I feel like they always helped me keep things interesting and challenged me to expand my imagination," said Bhardwaj. It is extraordinary to think that these small games helped shape us into the people we are today.
Sources:
https://childdevelopmentinfo.com/learning/multiple_intelligences/educational-benefits-toys/#gs.jh48zh
https://www.kidsinthehouse.com/blogs/tracey-clayton/do-childrens-toys-influence-their-career-choices
https://www.naeyc.org/resources/topics/play/specific-toys-play
https://www.seventeen.com/fashion/a45429/silly-bandz/
https://www.theguardian.com/technology/2009/dec/16/nintendo-ds-gaming-phenomenon
https://www.bbc.com/news/magazine-27974401
Leave a Comment
About the Contributor
Shreya Tripathi, Student Writer
Shreya Tripathi, Grade 12. Interests/hobbies include Key Club, Executive Council, NHS, Mini-Thon, S.U.F.A, Red Cross Club, Build-On, volunteering at the...