Revivals
Have you ever thought about the effects that families have to deal with every day when it comes to living from paycheck to paycheck, or for those who don't know where their next meal is going to come from? Many struggle mentally and can't afford the counseling to deal with other life struggles. When getting proper care, both individuals and families have more structure and can handle the obstacles that might come along.  In Bucks County alone, out of 625,987 people, 240,941 are from low-income families. When it comes to our community and the many things one can do for it, there is only one place that really takes it all. Revivals is a soup kitchen and free counseling area for people in need.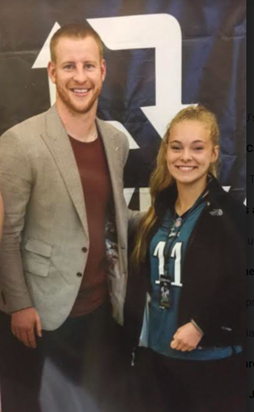 Revivals opened in the fall of 2017 in the form of an extension from the First Baptist Church in Perkasie. They already had a similar program initially but extended it when the past owner of revivals decided to sell the building. It was a new beginning, a new way they could give back to the community and extend somewhere else. Revivals was such a success that it also had a special celebrity guest in February of 2018, and a fellow Christian himself, Carson Wentz! Wentz has helped many organizations, so this was just another one to add to the list by volunteering with the kitchen behind the scenes. Pastor Doug Henning, one of the amazing counselors at the building, gives the reason that Revivals is for what God has intended, "to give back and love everyone as God has loved us".
This organization holds many different events. It receives all of its money for food from donations from the church tithing or general donations from our community. When it comes to the workers, they're all volunteers who take time out of their day to help provide nourishing meals and the counseling and tutoring that our community needs. For example, the head chef, Matt Gilbert, takes time out of his day to accommodate those who can't afford warm meals. Pastor Doug Henning said, "people get hot meals, very well made and nutritious and the people are very grateful". Adam Mellor, another contributor to the services provided there says "it is three and a half hours depending on the meal and we want to give them the best". The number of meals provided by the workers differs from during the pandemic to now.  Pastor Henning said, "during the pandemic, 340 meals were provided in under 28 minutes". Normal times for sitting in can conclude in 38 minutes, but first, they supply resources, which means when families or community members come in the first 38 minutes, volunteers come to talk to the people at the tables, speaking about our lord and their hard situations to come up with solutions to make their lives better. Some of the common topics include free counseling, help to find jobs, or substance abuse. By the time food is ready, 240 plates on average are served every Tuesday at 5:00.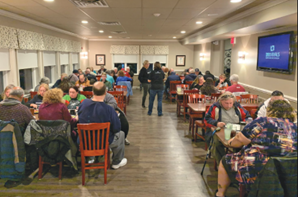 The services they provide are very well known due to people speaking on their behalf. Revivals is currently making a drive-thru to make it easier to hand out food, but also within the past four years Pastor Henning exclaims "hundreds have been helped and delivered thousands of meals". As of last year, Adam says "5,000 meals". As for counseling, Adam Mellor and Pastor Doug Henning see six to seven people between them each day. Revivals has also partnered with Pennridge School District for tutoring ESL students. As a result of all the volunteers' hard work, revivals has a 4.9-star rating and has changed many lives. Just having someone to take time out of their day to make sure others can talk, eat, or learn is something remarkable that God provided for this building and his children to make our community a welcoming and better place.
Leave a Comment
About the Contributor
Victoria Ruth, Student Writer
Victoria Ruth, Grade 12. Interests/hobbies include crocheting, working out, journaling, hanging out with friends and family, and scrapbooking with my polaroid....