What does it take to go D1?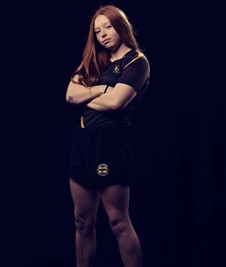 Madison Doyle, a senior at Pennridge High School, is officially committed to her dream D1 college to play rugby. Madison started playing rugby at the ripe age of 11. After watching the intriguing sport on TV during the Olympics, she was determined to wear a Jersey. Open tryouts for the Doylestown Rugby Club were happening down the street, and Madison was one of the first to show up eager and ready to be thrown into the mix. Madison was half the size of the other girls on the field but the first to tackle. Since the first day, Madison made a name for herself, and everyone knew to watch out for "Little Red" because her impact on and off the field was anything but.
After speaking with those close to Maddie, there were a few persistent themes. Stacy Mancuso, the coach of Doylestown Rugby Club, was adamant about the determination and consistent growth Maddie made throughout the years, explaining that even to this day, "she is always looking for ways to improve and is not afraid to learn." She then explained that Maddie left all she had on the field every game. All those who watch her know that she is a remarkable leader and team player but can also make the necessary vital plays. She will be the first one to each breakdown, ready to tackle her opponent, regardless of size, speed, or strength.
While interviewing her mom, she explained that watching her put in the hours and work each day was amazing. "None of this came easy to Maddie; she earned the spot she is in today," whether it be watching and critiquing game films to map out what she could do in the next game or early mornings at the gym before school. Followed by practice and countless hours on her own, "she had a goal, and watching her get one step closer every day to achieve it was such a privilege."
Maddie expressed, "I am so thankful to be where I am today." She has had many teammates and mentors to help and encourage her throughout the years. Now, getting ready to graduate and take the next steps in her career, she feels it is her responsibility to be a role model for the younger girls. She wants to be there for her younger teammates, just like the ones who were there for her. She appreciates the support of her team, friends, and especially family, who mean the world to her. She knows that her hard work does not stop here; she is only continuing to grow and is grateful for the opportunity to play at the college level. She plans to work harder now than ever; watch out, world.
Leave a Comment
About the Contributor
Megan Doyle, Student Writer
Megan Doyle, Grade 12. Interests/hobbies include hanging out with friends and family, working, going to the beach, and staying in to watch TV and movies....