The Whole 13 Takes on Disney
Have you ever experienced a moment in your sport that made your decision worth every hardship? Pennridge high school varsity cheerleading had a difficult decision to make at the start of the season. Our yearly goal as a team is to earn a bid to the UCA National Championship held in Orlando, Florida. This year, Pennridge cheer faced many factors when creating a competitive team. Overall, this choice for our season's outlook boiled down to a simple yes or no question. Would Pennridge take this year to rebuild the program and take a pause on our competitive streak, or would we fight to hit each routine and gain the rush of competition excitement? UCA, the Universal Cheer Association, hosts the largest and most prestigious championship event for high school cheerleaders across America. The National High School Cheerleading Championship, or the NHSCC, is an invitation-based championship where teams must earn a bid from a previous regional qualifier. Last year, UCA hosted over 20,000 athletes, 950 teams, and more than 50,000 attendees for Nationals in Walt Disney World. NHSCC is a live competition run in the ESPN center and nationally televised through the ESPN program or on Varsity TV. Earning your spot in nationals is a goal all cheerleaders have, but only select teams will receive the thrill of hearing a judge award their team a bid to Disney. Extensive requirements are given to a group to earn the title of a national qualifying team. The team must get within a ten-point range of the highest-scoring team, commonly known as "fitting the break." A team usually has to hit zero to "fit the break," hitting zero means zero deductions or zero points lost for different conditions within the routine such as stunt falling or another aspect of the routine not being executed well.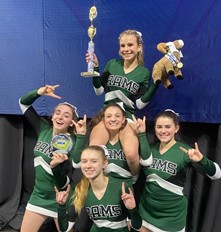 My decision to become a cheerleader for Pennridge is an experience that truly has made high school memorable for me. Going into this season, I knew it would be a challenging adjustment of numbers, balancing our strengths and weaknesses and the primary adaptations of our program. There was a period of time before tryouts where I considered just doing sideline cheer and straying away from the competitive aspect due to my fear of change. I am horrible with decisions, but I knew the thrill of competing, our pre-competition traditions, and the team itself was something I couldn't let go of. Competition season is excessively stressful, but it's also the best time of the year. In reference to the draw of the competition season, Anamarie Peruggia, a sophomore for Pennridge Cheerleading, said her favorite part is "being out there with all my best friends and that feeling you get when you get off the mat and all the nerves go away." This year, Pennridge Cheerleading decided to reimplement the Traditional competitive team for UCA competitions while continuing with our Game Day competitive team.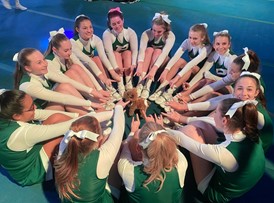 At the first UCA qualifier, the Game Day team hit zero, earned one of our highest Game Day scores, and secured bid number one. Two weeks later, we had another Regional Qualifier where the Traditional squad left it all on the mat to hit zero and earn the second bid to Disney. At the award ceremony, the whole team scrunched together, squeezing our hands, and hoping we would get a double Nationals bid. Hearing that we had a second bid to Disney and would be competing in both routines in person at Nationals for the first time in five years of the team was the most incredible feeling. After hearing that we had achieved another bid, watching the team jump up to hug each other and celebrate everyone's hard work pay showed me why I decided to stay with Pennridge Cheerleading.
This year the team was lucky to welcome our new assistant coach, Kayla Granite. Granite is a graduated cheerleader from Pennridge with abundant talent, skill, and motivation. She is the first person to problem-solve an issue, whether it is a stunt not hitting or a non-cheer-related conflict. Granite is constantly available for her cheerleaders, a positive figure, and a determined coach to whom the team is beyond grateful. In reference to what the best experience as a Pennridge coach has been so far, Granite said, "my favorite memory is when we found out we were getting a traditional bid because you guys didn't think we would, and I knew we would when we got the scores. Seeing the excitement and pride on your faces made it worth it."Pennridge Cheerleading has become my anchor for the year, allowing me to come to practice and leave all my outside problems behind when I hit the mat. Through this team, I have met some of my best friends, made many unforgettable memories, strengthened myself mentally and physically, and found my passion.
Sources:
https://www.varsity.com/uca/school/competitions/regionals/
https://www.varsity.com/uca/school/competitions/game-day/game-day-live/
Leave a Comment
About the Contributor
Alexa Stachel, Student Writer
Alexa Stachel, Grade 12. Interests/hobbies include Mini-THON, NHS, cheer, traveling, the PALS Program, and music. Alexa plans to attend the University...