The Christmas Season Below The Border
How the Christmas spirit manifests in Mexico
What comes to mind when you think about the Christmas season? Images of an old man in a red suit, sweets both homemade, and store-bought, the earth covered in a snowy blanket, and many other staples of holidays past rush to mind. It's often easy to recall our familial traditions, and the familiar sights we've grown accustomed to during the holiday season; however, it's often far more challenging to imagine how another place, even our country's neighbor, could celebrate. After all, How different could it be, just outside of the United States' backyard?
In Mexico, the holiday celebrations begin far before Christmas eve and last beyond the new year. The first holiday in a string of many is the day of the Virgin of Guadalupe on December 12. On this day, people with the means take a pilgrimage to the Basilica of Guadalupe to visit the Virgin Mary, and attend a mass in her honor, after attending mass in their local churches before their travels. Firework shows, parades, and other lives performances are held throughout Mexico City, where the Basilica of Guadalupe is located, and smaller events take place locally; Christmas food is sold by street vendors, or families cook their holiday meals, and feasts are held by churches, companies, and relatives alike.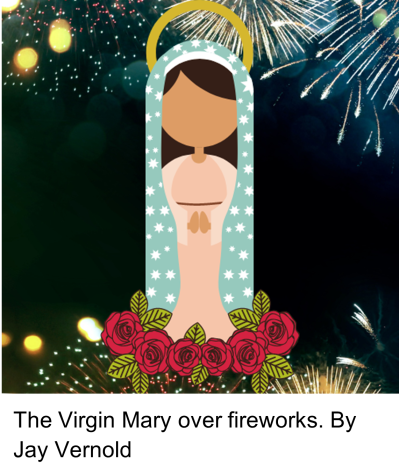 Las Posadas takes place between December 16–24, days filled with feasts, songs, and theatrical performances. Reenactments of the biblical Mary and Joseph's search for shelter occur throughout Mexico, alongside pastorales, and theatrical productions of the shepherd's journey to see baby Jesus. Throughout these days, children go to houses tasting the traditional las posadas song, as well as other Christmas carols, asking the homeowners to let them into the home as they go from house to house. The processions end at a different person's home each night, where a fiesta is held with the food, drink, and pinatas expected. As Christmas grows nearer, individual houses, and whole communities, decorate elaborate nativity scenes and add more to the scene as each day passes.
Christmas eve has finally arrived, and a baby Jesus can be added to the nativity scenes. In addition to adding to the nativity scene, poinsettia flowers are used as decoration throughout homes, and the outdoors. Families attend a mass at their churches, followed by returning home for a traditional feast. Fireworks shows are commonly held. The following day is dedicated to celebrating Christmas, including adding the three kings to the nativity scenes. Gifts are rarely given on this day, unlike in the United States, and are saved for a later date.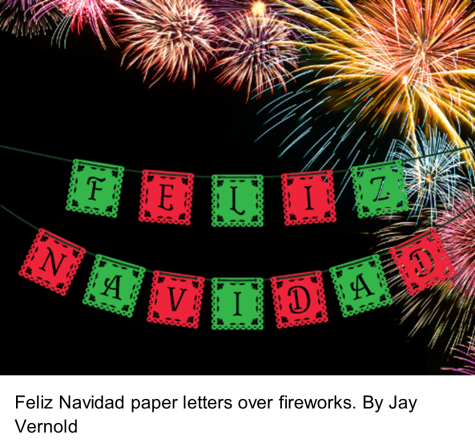 The Day of The Sainted Innocents continues the celebrations, taking place on December 28. This day is dedicated to celebrating the first martyrs in the bible, considered by this holiday to be the children that were killed in an effort to kill Jesus as a baby. Akin to April Fools Day, this is a day filled with pranks, jokes, gags, and general shenanigans. The playful attitude isn't restricted to families, and friends, although they are far from spared on this day; the media will report news far too funny, odd, or outlandish to be accurate, whether it be genuine stories so abnormal they appear fake, or making up fictional news for the day to partake in the event.
Three Kings Day takes place on January sixth, where, finally, gifts are given. Children receive gifts on this day, as the name of the holiday may suggest, because of how the kings in the biblical story surrounding Jesus's birth gave him gifts when they arrived. Rosca de Reyes is shared among families, and friends, on this day. This sweet bread shaped like a wreath contains a single baby Jesus figurine inside each one, and the person who gets the figurine in their piece of bread has to host the party on Candlemas, the last holiday in this chain.
Candlemas doesn't take place until February 2 and is the final part of the celebrations for the Christmas season. People take their christ figurines to church to receive blessings and partake in small church events. After church ends for the day, a traditional Mexican-style feast is held at the house of whoever found the figurine in the Rosca de Reyes the previous month, tamales, salted codfish, crispy fried fritters, pozole, Christmas salad, hot fruit punch, and all.
It can be easy to forget how subjective our experience of events familiar to us can be. Even the most open-minded may not be familiar with traditions taking place not far from us, even if the same thing is being celebrated. It's never too late to develop an understanding, and appreciation of another culture, and its approach to something many elsewhere celebrate. Besides, who wouldn't love the opportunity to prank friends while sharing the knowledge of the Day of Sainted Innocents with them?
Sources
https://www.gviusa.com/blog/how-christmas-is-celebrated-in-mexico/#:~:text=There%20are%20candlelit%20processions%2C%20elaborate,in%20Spanish%20and%20indigenous%20culture.
https://nationaltoday.com/day-of-the-virgin-of-guadalupe/
https://www.cnn.com/2019/12/25/world/christmas-traditions-around-the-world-trnd/index.html
https://www.history.com/topics/christmas/christmas-traditions-worldwide
https://www.mexconnect.com/articles/3840-december-28-or-april-fools-mexico-celebrates-the-holy-innocents/
Leave a Comment
About the Contributor
Jay Vernold, Student Writer
Jay Vernold, grade 12. Interests include writing, video games, gardening, cooking, spending time with family, spending time outdoors, and playing with...