Born to Inspire
Pennridge High School Teacher inspires Kindness and a Love for Learning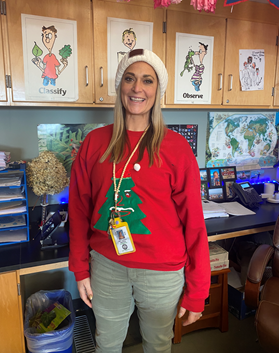 Teachers inspire our future generations. They're some of the most influential people that leave an impact on our children. Sabrina Bates is one of those inspirations and has been teaching at Pennridge High School for about 17 years. Bates currently teaches Environmental studies but most importantly teaches her students how to implement kindness within their everyday lives. Bates continued her love for learning after graduating from Neshaminy High school and attended Bloomsburg College majoring in Secondary Education Biology. Not only does Bates value education, but also values the family she helped build. Bates is married to her husband, Walter Bates, and has two children named Ryan and Pearl. Anyone who knows Bates also knows her for her exquisite style. Without fail, she is dressed in a new outfit every day and expresses herself through each clothing item.
Bates is someone who values treating all people with kindness and being a nice person. She carries these values into her lessons and enjoys observing how her students grow throughout their time in her class. This is the exact reason she became the advisor for the Pro-Choice Club at Pennridge High School. She values how it is completely student driven and how she can see various students from different backgrounds accumulate their individual opinions.
Being independent and individuality is something that Bates incorporates into her life through various aspects. Since she was young, she learned how to be independent and make things happen for herself. This is seen through how she built her personal family, encouraging her children to explore any interests they have, and through other things like how she presents herself. In a recent interview, she stated " I really enjoy clothes and really enjoy representing personality through the way I dress." She described how her outfits are very intentional and believes that students should be able to wear what they wish to school so they feel comfortable within their learning environment expressing that "high school should be a safe place to make mistakes…like training wheels, take calculated risks."
Educating her students on Environmental Studies is something she finds much significance in. She believes Environmental Studies is a very applicable science where there is always a pro or con presented about how humans have inhabited this earth. Additionally, she likes to discuss the unintended consequences of various actions and show how this world isn't just black and white, but in Bate's words "All shades of gray."
Many of Bate's fellow coworkers also admire her as a teacher and individual. Angela James, a teacher at Pennridge High school, described Bates as "wicked smart and always has a very global perspective on things."  James admires how Bates has pushed her students to think for themselves and not just settle with preconceptions. She described her as a free-spirited parent allowing her kids to find their personal paths. When asked what is something that she believes people should know about Bates, she mentioned "She seems very laid back but is a perfectionist, always striving to be the best and be her best".
It's clear that Bates is a great teacher, parent, and individual not only to her fellow coworkers, but also to her students. One of her AP (Advanced Placement) Environmental students, Emily Strom, described Bates as an extremely engaging teacher. Strom mentioned how Bates "seems to love what she teaches" and is constantly interactive within her lessons and classroom. Strom admires how Bates has expectations within her classroom but allows her students to figure out ways to meet those expectations by themselves. Strom also expressed how she "loves how she participates in the spirit weeks and goes all out". When Strom was asked what is the most rewarding aspect of Bate's class, she stated "It gives me the opportunity to actually learn the content because she's not as focused on our grade in the class, but what we're learning".
Bates is a person who is valued by anyone she meets. Her love for teaching, parenting, and dressing all show through a single conversation. People not only respect her but admire what she has to say. It's guaranteed that any student who is lucky enough to have her as a teacher will gain valuable lessons and knowledge.
Leave a Comment
About the Contributor
Isabella White, Student Writer
Isabella White, Grade 12. Interests/hobbies include Mini-THON, buildOn, Key Club, NHS,  Student Council, working two jobs, hanging out with friends and...