Saying Goodbye to 2022
With the holiday season approaching fast, you may want to get out of the house and stop suffering from the cold and travel instead. There are so many beautiful places to visit this year. Somewhere where you can enjoy the history behind the ancient sites without sweating all day. Somewhere with beautiful scenery, and less crowded with tourists. Somewhere with amazing food, and Gelatos for dessert. Italy! Italy is a breathtaking country with so many places to visit, such as The Vatican City, The Colosseum, and Giotto's Bell Tower. Italy has so much to offer, so you may as well take advantage of it. While exploring the country, you might want to grab a bite to eat at La Pergola located in Rome, famous for its pasta and raspberry dessert. Some other ones you should consider are the Osteria Francescana, and Il Palagio.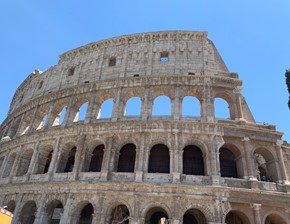 If you want to go down to the coast of Italy, I highly recommend visiting the Amalfi Coast. It overlooks the Tyrrhenian Sea and the Gulf of Salerno. With turquoise seas and cinematic piazzas aside, the region is home to some of Italy's finest hotels and restaurants. It's also one of the country's top spots for hiking, with well-marked trails providing the chance to escape the crowds. As for someone who has been here, this place is breathtaking. Watching the boats go by, and watching the sunset, all brought me a sense of peace. According to a former citizen of Amalfi, Josephine Berardi, " This is my favorite place to be. Words cannot describe how majestic it is, and it also has the world's best seafood too!"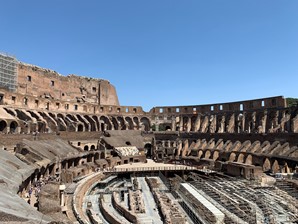 If you are in Rome, you need to go to one of the most historical landmarks in Italy, The Colosseum. It is a giant amphitheater built under the Flavian emperors. Construction began sometime between 70 and 72 CE during the reign of Vespasian. It is located just east of Palatine Hill, and is a freestanding structure of stone and concrete, using a complex system of barrel vaults and grain vaults, measuring 620 by 513 feet . The Colosseum was the scene of thousands of combats between gladiators, of contests between men and animals, and of many larger combats, including mock naval engagements! The Colosseum was, sadly, damaged by lightning and earthquakes, vandalism, and pollution. All the marble seats and decorative materials disappeared, and it was used for a Quarry for about 1,000 years. Soon in the 19th century, it was kept preserved, and now a historical landmark.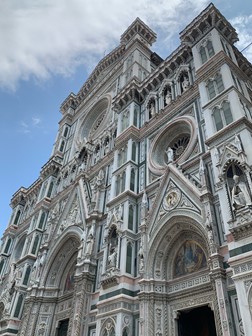 Taking a trip back to Venice, I would advise you to go to Giotto's Bell Tower. This piece of artwork is one of a kind. It was started in 1334 when Giotto, one of the principal artists and architects of the time, began to build the bell tower for the church, placing it next to the church. The square base is approximately 15 meters. The tower reaches 84,70 meters in height. It is decorated with green, red, and white marble on the outside. Former tourist William Corrado says, " Giotto's Bell Tower is a work of art. The details, the color, the hard work put into it is absolutely incredible." As you can see here, this place is a masterpiece. Walking through the town, you see people playing all kinds of instruments, making it feel like you are in a movie.
Italy is filled with amazing places to see. Take the time to relax this holiday season, and check them out. You will not regret it. You will find a sense of peace by seeing everyone get along with each other, eating the most savory food you could possibly taste, and experiencing the views of historical buildings. As you are watching the sun set over the bright blue water, you will get a feeling of nostalgia and wish you could stay there forever. So make sure you book those tickets and spend the holiday in Italy.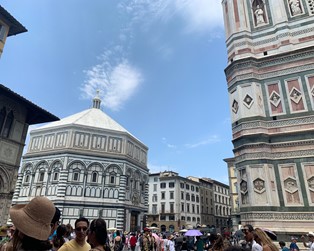 Leave a Comment
About the Contributor
Abigail Zischang, Student Writer
Abigail Zischang, Grade 12. Interests/hobbies include being outdoors, spending time with family and friends, going to the beach, baking, and traveling...