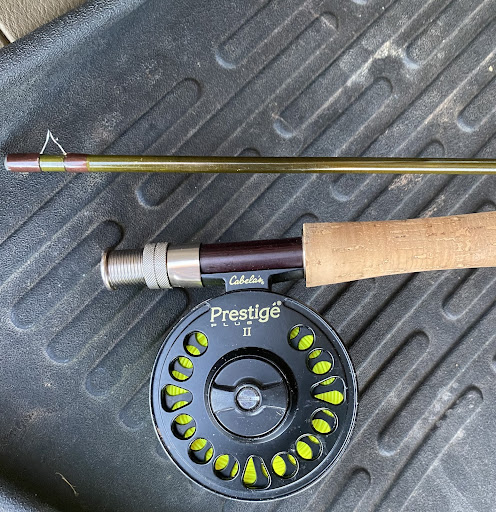 Fly fishing: Not only for the old and rich
When most hear the term fly fishing an image of rich old men standing in a mountain stream comes to mind. Many people don't believe that fly fishing is possible due to the price of gear, tackle, guiding services, travel costs, etc. However, there are fly fishing opportunities in most creeks, ponds, rivers, and even lakes. Almost all species can be targeted trout, largemouth bass, smallmouth bass, pike, bonefish, and chain pickerel can all be targeted with a fly rod. 
Fly fishing differs from conventional fishing in many ways. When fishing with conventional tackle, such as a spinning rod, the weight of the lure casts the line out. With fly fishing, a weighted line casts a small very light "fly"  lure out. This weighted line is known as Fly Line and it is made of a nylon rope core with a plastic coating to keep the line afloat. 
The "flys" used in fly fishing work to mimic large and diverse food varieties that the fish eat. Some flies are constructed with the intention of sinking, to mimic minnows or crawfish, while others represent mice, worms, and an assortment of insects. Fly types are such an expansive topic that each kind of fly could have its own article if not multiple articles written about it. For beginner purposes, there are a few kinds of flies to know: dry flies, nymphs, streamers, and wet flies. Dry flies sit on top of the water to represent all sorts of food that a fish might eat: mice, grasshoppers, other insects, etc all are possible dry fly options. Nymphs work to imitate young insects in their larval form that live in the water. Streamers work to imitate baitfish leeches and crayfish. Finally, wet flies imitate water-borne insects that swim to the surface. All of these flies can catch most fish species however their use varies depending on the weather, season, and species being targeted. 
In addition to flys, it is important to have a good fly rod and reel to cast the fly. Two excellent options at very different price points are the Cabelas Bighorn and the Orvis Clearwater. The Cabelas Bighorn rod reel combo comes in at $100 and includes a rod, reel, line, and leader, and is backed with a one-year warranty. The reviews on this rod and reel combo pointed out the price and versatility of the combo for being its strong points. Critics pointed out that the tip of the rod was not super responsive however it wasn't enough to be a deal breaker. On a completely different price level, the Orvis Clearwater Rod and Reel combo come in at $419. It includes a Rod, reel, line, backing, backing, and tube. The included tube is nice because it provides safe storage for the rod when it is not being used. The rod also boasts a 25-year warranty which is much longer than the Cabelas warranty. Customers who purchased this rod enjoyed its durability and versatility, one man, in particular, described how well it performed fishing for sockeye salmon in Alaska. Critics of the rod pointed out that when submitting a warranty claim there was a processing fee and the turnaround time could be lengthy. In a side-by-side comparison, the only huge benefit of the Orvis Clearwater is its amazing warranty. For a beginner fly fisherman, Cabela's Bighorn is the better option, boasting an impressive price for a durable rod. 
In short, fly fishing can be enjoyed by people of all ages and walks of life. While fly fishing a mountain stream may be the common image, fly fishing a small pond, a local stream, or lake can be just as rewarding and fun. 
Sources:
https://www.takemefishing.org/fly-fishing/fly-fishing-flies/best-fly-fishing-flies/ 
https://www.orvis.com/clearwater-fly-rod/25SP-Family.html 
https://www.treelinereview.com/gearreviews/best-beginner-fly-fishing-combo 
https://www.basspro.com/shop/en/100855350-100855350