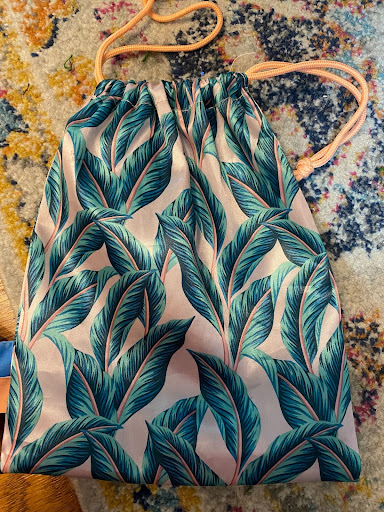 A Year of Beauty
Ipsy delivers a bag directly to your house full of different beauty products every month.  Every bag comes specifically designed to match the aesthetic of that month, and these bags double as travel carry-on for all your makeup.  Tece Hunt, who loves everything about beauty, states, "I haven't purchased an Ipsy bag, but I've definitely thought about it.  I see them all the time on social media, and I love the cute bags they come in."  I purchased my membership in August 2022, lasting until August 2023.  Throughout 2022, lots of exciting beauty bags were delivered.
The first bag received was the August bag, which came in a bag decorated with tropical leaves to match the summer state of mind.  In this bag, I received the Complex Culture face and eye vegan set brush, Dr. Zenovia Aloe Vera Blemish Soothing Moisturizer, Supergoop Unseen Sunscreen, Realher Power Wear ombre bronzer in bronzed beauty, and the Shaina B Miami cream blush in Bellini.  One shocking thing about this first bag was the quality of this makeup; all of the products were either popular on social media or just worked extraordinarily well.  The top product of the August Bag was the Cream Blush by Shaina B Miami; this product was worrying at first because of the nearly tan shade, but as soon as it is applied to the face, it transforms into a bright pink.
Next came the September bag, decorated with the message "You Got This," as a reminder to all Ipsy members.  This bag included Full Ritual Magnetic balm in second nature, Natasha Denona Cupid Cheek Duo, So Rich chrome facial tool, BEYOU caffeine eye cream, Cover FX Gripping Primer + Firming, and Sleek'e Silk'e repair therapy hair serum.  The therapy hair serum was an add-on, available to all members if they wish to add something extra to their bag.  These include deluxe samples, full-sized products, and sometimes hair tools.  Two of the favored products in this bag include the Cheek Duo and Gripping Primer.  The Natasha Cheek Duo is a mix of powder and cream products, including highlighter and blush.  The Cover FX Gripping Primer and Firming was a face primer that acted as the Elf HydroGrip Primer, making the makeup stay all day.  Overall, this month had to be one of the best bags; I still use all these products nearly daily.
The October bag had a purple and black Halloween theme to set the mood for the holiday.  This bag included Reina Rebelde on your face and eyes color palette, Grace and Stella Brightening and moisturizing eye cream, Complex Culture Filter Out Anti-Pollution Face Primer, Earth Harbor Naturals Cloudburst balancing gel hydrator, Fenty Beauty gloss bomb heat universal lip Luminizer and Plumper in Hot Cherry.  This month's bag felt repetitive from the previous month since they both included eye cream, blush, lip gloss, and a primer.  The primer worked well for hydrating the face, all while filtering imperfections.  Also, the Earth Harbor Cloudburst Balancing Gel Hydrator works well in keeping your face hydrated throughout the day with a lightweight product.  
The next bag I received was the November bag, decorated with a cheetah print.  In this month's bag, I received First Aid Beauty Ultra Repair Face Moisturizer, Hey honey be clear skin purifying bee propolis drops, Araceli Beauty Monarca Mascara, Reina Rebelde On your face finishing powder, and the Living Proof restore perfecting spray.  Most products, such as the First Aid Moisturizer and the Hey Honey Be Clear bee propolis drops, worked well.  However, some products I chose, like mascara, flaked under my eyes almost immediately, and the powder was too yellow for my skin tone.  
The last bag of 2022 was the December bag, covered in red and pink to resemble the brightness of the holiday season.  In this bag, I received a Ciate London velvet eyeshadow palette, Alleyoop stack the odds in sassy pants, Act and Acre intelligent hair towel, MOTD cosmetics party of two dual-ended face brush set, and Rinna Beauty icon collection lip gloss.  This bag did not disappoint, and I continue using these products daily.  My favorites from this month's bag are the hair towel and the Alleyoop stack the odds.  The microfiber hair towel allows you to dry your hair without damaging it from terry cloth towels.  The Alleyoop Stack the Odds includes a blush, highlighter, and bronzer, all in one package.  This product was popular on social media because of the packaging, but the quality did not disappoint.
Jennifer McCarthy says, "Even though these products aren't for me, it is always exciting to see what comes in monthly mail.  I always look forward to it."  During 2022, Ipsy delivered many new and exciting products that are now incorporated into my daily routine.  All fit to match my personal preference and are of high quality.  
Any comment containing hate speech, terroristic threats, or vulgar language will be deleted from this post. Please comment appropriately.