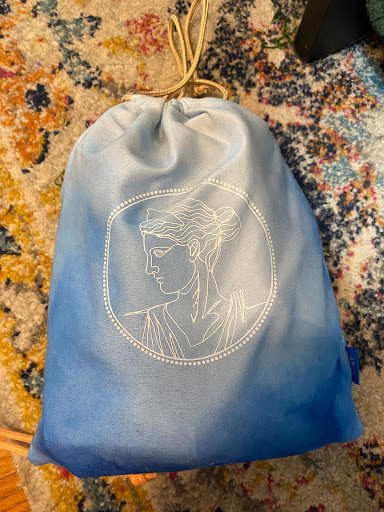 New Year, New Beauty
With the new 2023 year comes a new year of Ipsy bags.  So far, I have received bags for January, February, March, and April.  However, there was a change from bags to boxes starting in April since it is Earth Month.  Ipsy says this change was to "make more thoughtful, sustainable beauty choices" in honor of the Earth.
I first received a bag in January, and the bag design was a mystery.  In this bag, I received Purlisse Beauty Perfect Glow BB concealer in Light, Wingme cosmetics liquid liner, Half caked star bright loose setting powder, Mischo Beauty Eyeshadow Pallet, and Tarte drink of H2O.  The January selection was overall underwhelming, mainly because of shade choices.  The BB concealer was a little too dark for my skin tone, but it was a great product I will use in the summer.  Also, the Star Bright loose-setting powder was yellow and looked out of place on my face.  However, the packaging was something new than what is typically seen with powders, and the product worked great.  The Tarte Drink of H2O was my favorite this month and is now part of my everyday routine.  This product works great for keeping skin hydrated.  
February's bag was decorated in a pink marble pattern and filled with self-care products to represent self-love during the month of Valentine's Day.  In this bag, I got Goldfaden MD Fleuressence Botanical Cell oil, Byroe Kiwi Detox Cleanser, Dew of the Gods filla retinol mask, Keleido Cosmetics superfine luminous blush palette in coral glow, and Yesna Beauty skin on skin BC foundation in light neutral.   The Goldfaden Cell Oil works well to leave your face looking glowy and hydrated and is used daily.  The Byroe Cleanser is another excellent product, as it refreshes while gently exfoliating your face.  I use the Dew of the Gods retinol mask under my eyes almost every night, which noticeably leaves me with brighter under eyes.  The Yesna Beauty skin-on-skin foundation applies flawlessly and looks as if there is no foundation on.  Overall, this month had to be one of my favorites; all the products were extraordinary. 
The March bag was designed with an ombre blue with a line drawing of a woman.  In this bag, I was given Wander Beauty getaway eye and face palette in sunkissed, Byoma moisturizing rich cream, Lucky Chick lip love lip treatment, Grande cosmetics GrandeBROW-FILL volumizing brow gel with fibers and peptides in Dark, and True + Luscious lucky glow palette.  This bag was another favorite, especially since it included moisturizer and the lip treatment.  The Byoma moisturizing cream profoundly hydrates your skin.  The Lucky Chick lip treatment has become an everyday essential for me.  The lip treatment is my favorite product from Ipsy thus far; it works to keep your lips moisturized.  Taylor Archibascio, who frequently uses this lip product, says, "I use this product all the time in school.  I love how moisturizing it is.  Also, the fact it smells like vanilla is a plus."
The last bag is the April one, which came in a box for Earth Day.  In this box, I received some of my top-used products.  These include the Byroe pear serum oil, Alloy Eyeshadow palette Natasha Denona, eyelash enhancing serum forchics, High Def Under Eye Color Corrector in Peachy V Kosmetik, and Make It Bang Primer.  I often use this box's pear serum oil, eyelash serum, color corrector, and primer.  The Byroe pear serum oil gives my face a brighter appearance and is now incorporated into my daily skincare routine.  The Forchics eyelash serum has helped grow my lashes throughout the last month and is used every night.  The High Def Under Eye Color Corrector in Peachy V Kosmetik is another personal favorite since it helps the finished look more natural. A harsh orange color corrector is commonly used, but this product is a peach color instead.  Lastly, I use the Make it Bang Primer every time I do my makeup; it helps makeup blend out much easier and is hydrating.  
Over the past four months, I have received some of my favorite skincare and makeup products which I use daily.  These include primers, serums, lip products, and various makeup products.  At such a low price, Ipsy members are able to get high-quality products and low prices.  Tece Hunt, who has looked into Ipsy before, says, "I have loved beauty for a while now, but everything is so expensive anymore.  Being able to have different products delivered to your house at a reasonable price is such a steal."  Giving customers a personalized experience to fit their needs, all for a fair price, Ipsy is taking over the beauty market.
Any comment containing hate speech, terroristic threats, or vulgar language will be deleted from this post. Please comment appropriately.