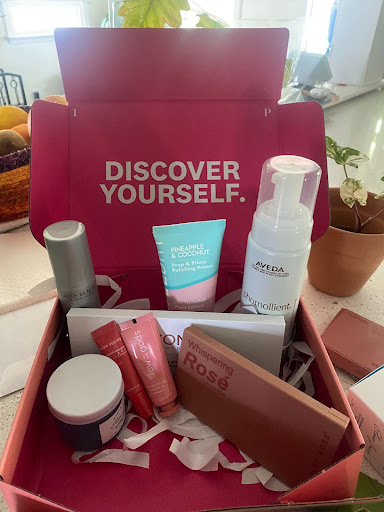 A Look Into May Beauty
Ipsy is known for its makeup selections, but they may also include hair, skincare, and body products. Taylor Archibascio, who is looking into Ipsy, stated, "Whenever I think of Ipsy, I just picture makeup.  I was shocked when I learned they also send out hair and skincare products." The products are also high in quality; Archibascio continues, "I got a sample size deep conditioning hair mask in a free gift bag from Ipsy, and now I'm debating on buying it.  The mask did a good job hydrating my hair." 
In the May box, I received various makeup, skincare, and hair products.  The first product I received was the Iconic London Beachside Babe Eyeshadow Palette, typically priced at $40.  The Ipsy team chose this eyeshadow palette, which includes 12 matte, shimmer, and velvet shades.  This palette came right in time for summer since it contains shades such as orange, turquoise, and yellow, all perfect for a summer look.  The following product I received was the Violet Voss Whispering Rosé Palette.  This palette was also picked for me by Ipsy and has a value of $43.  Four shades are included inside; light pink, bright pink, orange, and mauve.  These powder blushes are very pigmented, especially the bright pink shade.  They are versatile, though, meaning they can be used for either a natural or dramatic makeup look.  I picked the third product, the Frank Body Coconut Coffee Scrub.  This product's value is $20.  Frank Body says this product is meant to help lighten stretch marks and scars because of the coffee granules and essential oils included.  This product was easy to use and left my skin feeling smooth.  Next, I received the Aveda Phomollient™ Styling Foam, which retails for $28.  When my hair is dull and lacks volume, I tend to use this product as it adds shine and volume.  One common issue is styling products leave hair feeling crispy, which I have not yet experienced using the Aveda Foam.  The last product I received in this month's box is the Style Dry Prep & Prime Polishing Primer in Pineapple & Coconut.  Since I rarely use heat on my hair, I haven't been able to use this product, but reviews say it leaves your hair soft and shiny, all while smelling amazing.  
After making selections for a bag, Ipsy offers members to add products to that month's bag at a discounted price.  Add-ons include samples, full-size products, and hair tools.  This month, I decided to add on four products.  All these products were included in my May box when it was delivered.  The products I chose included Glow Recipe Strawberry Smooth BHA + AHA Salicylic Serum, Dew of the Gods Claydate Healing Face Mask, Earth Harbor Naturals Glow Juice Enzyme Refining Mask, Juice Beauty Stem Cellular Exfoliating Peel Spray.  The Glow Recipe Salicylic Serum was a deluxe sample size, which cost $2.50 with a membership.  This product can be used to treat skin over time or to blur imperfections under makeup.  Next, I added the Dew of the Gods Claydate Healing Face Mask, which was a sample size for $2.50.  There was a lot of product for sample size, and it worked to hydrate my skin.  Then, I got two full-size products.  I first purchased the Early Harbor Enzyme Refining Mask, which usually is $40.  With the membership price, this product, on an estimate, was around $18.  When first trying this product, I was unsure because of the jelly-like texture.  However, it had a refreshing cooling effect, leaving my skin radiant and refreshed.  I also added the Juice Beauty Peel Spray to this month's bag, which usually retails for $52.  Although this product made my skin brighter and smoother after one use, it was underwhelming.  The bottle was smaller than imagined for what usually is $52, especially since it takes a lot of product to cover all areas of your face.  In the end, all the add-ons cost around $40.  Jennifer McCarthy, who frequently gets to see what is inside each month's bags, says, "I was shocked to see how much $40 could buy in add-ons; usually, that would get you one product."  Without the membership price, I would only have been able to buy one full-sized mask instead of four different products.
Ipsy allows those involved to experience new products they may have never known about for a low price.  Whether through add-ons or monthly bags, there is always something new to try, which may become your new favorite product.
Any comment containing hate speech, terroristic threats, or vulgar language will be deleted from this post. Please comment appropriately.