A Record Breaking Season
Hang on for a minute...we're trying to find some more stories you might like.
More stories from J Bennington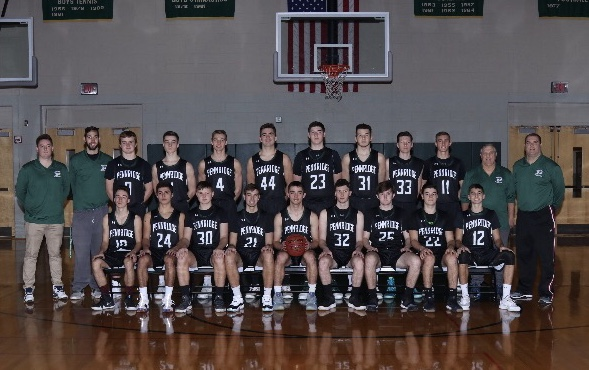 The 2018-2019 Pennridge boys basketball team has recently been breaking records for the school. According to John Dominic, this has surprised fans and parents, as no one thought they would come this far in the beginning of the season.  Dominic himself broke records as he put up 37 points back in January, the highest amount of points scored by one player in regulation. On Tuesday, February 19th, the team won against Springford 71-48 in District Playoffs, which guaranteed them a spot in the State Playoffs. On Friday, February 22nd, the team played Norristown in quarterfinals and triumphed 51-38. This win sends the team to semifinals against Abington, which will be played at Temple University. This team is the first in Pennridge Basketball's history to go to Temple for this title. Sean Yoder led the Rams to their victory on Friday as he broke Danny Long's record for all-time leading scorer.
The team will travel to Temple on Tuesday, February 26th, starting at 7 o'clock. According to Sean Yoder, every fan can help lead the team to this victory by coming down to Temple to support them. "We feel off the crowd and all the people that are there watching, so a big crowd is going to elevate our game" said Sean. Since the game is away for both teams, the atmosphere of home field advantage will be a tipping point for the win. Student and Fan Kaleb Rush supports this idea, as he believes "As more people come and help support, there is more of a motivation and a purpose to win for them". So if you want to help lead the Ram's to victory, make sure to support the team as they continue their record breaking season.
About the Writer
J Bennington, Student Writer
J is currently a senior at Pennridge High School and plays on the Pennridge Ice Hockey Team. J is also a member of the National Honor Society.