Inside Pennridge's Record-Setting 4×800 Relay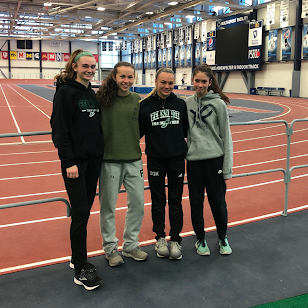 Hang on for a minute...we're trying to find some more stories you might like.
The Pennridge Girls 4×800 meter relay team started their season off with a bang, as they ran a PA state record time in their first race together. Their time of 9:23.28 at the Kevin Dare Invitational at Penn State is the second best time in the United States. The team consists of a runner from each grade, Meghan Kriney (Senior) Ashley Gordon (Junior), Emily Kriney (Sophomore), and Ava Pultorak (Freshman). When asked what drives the team, all four agreed that it was their strong bonds as a team. Ashley says that they are always there to hype each other up before and during the race, and they "are really good friends, so they race for each other every time." Their biggest goal of the season is to be state champions and compete at Nationals. Coach Smith has high hopes that they will be successful, as he believes this team is set apart from others he has coached in his 22 years of coaching by their "work ethic and desire" as well as their "will to succeed."
One of the biggest surprises about this group of four is that it is all but one of the athletes' first years running winter track. Emily ran indoor track last year as well and went to States running in the same event. She runs the first leg, and thinks that her greatest strength is her "strong start." Ashley is usually the second to compete. In addition to track, Ashley spends her time playing for the Pennridge Basketball team, which has been a lot for her to balance, and very tiring, though both coaches are very understanding of her demanding winter sports schedule. The athlete plans to continue running in college. As a freshman, Ava immediately found her spot as the third leg in their relay. While she was slightly overwhelmed at first, she has been able to learn from the upperclassmen, and Emily says that she "came up to the high school and immediately fit in so well" with their tight-knit friend group. The final member of their relay is Meghan, who finishes every race strong. She has run spring track all four years at the high school, as well as soccer. She has only been focusing on the relay rather than individual events that she does in the spring, which she says is "very different, but has been a really fun experience to compete alongside her sister and friends." 
All four are very hopeful that they will continue to improve for the rest of the season. This past weekend, they ran at the Millrose Games, where they ran their second best time of 9.26:46. Their goal by the end of the season is to each run a 2:20.00 800 meter, bringing their overall time to 9:20.00. The team has two meets until the State Indoor Championships, held the weekend of February 29 at Penn State University.