Pennridge takes down Downingtown East 52-48, Sights set on PIAA Playoff Run

Coach Dean Behrens and his varsity basketball squad are headed to the PIAA state tournament once again this year, this time without their NCAA Division 1 recruit. In their playoff seeding match against Downingtown East last Friday night, Pennridge came out of the gates hot, amassing a 15-5 lead in the first quarter, and while the Downingtown squad battled back, they were unable to hold a lead since a brief stint in the second quarter.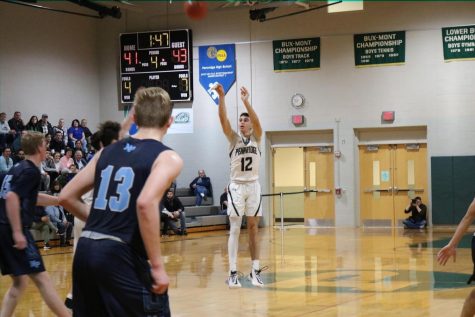 The match was largely a faceoff between Pennridge's Point Guard Christian Guldin and Downingtown East's star Forward Andrew King. King put up 28 of the Cougars' 48, shooting 50% from the field and from beyond the arc, and was a force to be reckoned with on defense, getting a handful of blocks and steals. Guldin scored 21 points himself, shooting 60% from the field and connecting on all four of his shots from range. Guldin put away an additional 5 of 6 free throws, three of those coming in the final 30 seconds of the game, the last making it a two-possession ballgame and sealing the deal for Pennridge. 
Guldin attributed his performance to "taking advantage of the openings early in the game [his] teammates found for [him] in transition" and later in the game when he was more heavily guarded, "finding open guys" to help his team succeed.
Pennridge's Senior Center Trent Fisher posted 13 points, marked by a huge slam followed directly by a fast break layup in the 3rd. Senior Forward Connor Pleibel put up 6 points, including a crucial 3-ball late in the 3rd to put up Pennridge by 10. Junior Guards Luke Yoder and Colin Post also put up 5 points a piece. As a whole, the team shot 41% from the field and an impressive 53% from deep.
Guldin says the team wants to "make [their] run on this thing, and stay hot." Former player Ryan Benscoter mentioned that "[Senior Forward] Anthony [Phillips] is the real energy and morale booster of the team" and also noted that "Trent and Christian have always been the natural leaders of the team." Benscoter said that the team should "Focus on [District 12 Runner up] Roman Catholic, if they can win their first game."
Pennridge's win Friday night places them as the District 1 7th seed for the PIAA state tournament, pitting them against District 2 Champion Wilkes-Barre in the first round. Pennridge is heading into the tournament with a 20-9-1 record, compared to that of Wilkes-Barre's 16-11. The game will be held at Wilkes University, on Saturday, March 7th at 4 p.m.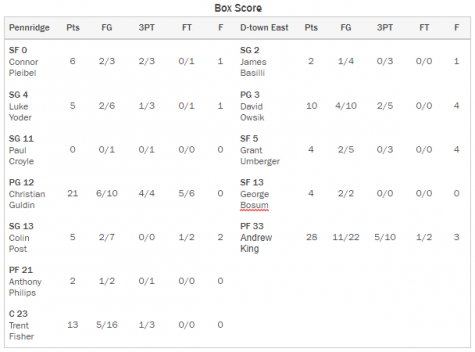 About the Writer
MJ McPhelin, Student Writer
Grade 12

Interests - Making videos, light/sound engineering, computer programmering

Hobbies - Basketball, building computers, video games

Goals...