I Scream, You Scream, We all Scream for our Local Ice Cream Business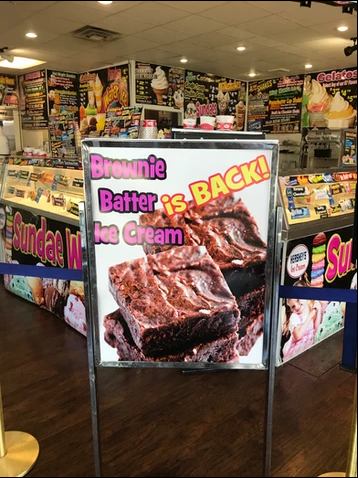 Spring is in the air and with that comes warm weather, flowers, and ice cream! When you think of ice cream you may think of places like Dairy Queen or Ritas. But, do you know about any of the small business places around our area? In Bucks County, there are a lot of ice cream shops that may not get as much attention as bigger branch places. Some of these places include Kool Licks, Sundae School, Hickory Stick, Nina's Waffles, and Owowcow. So many amazing flavors that may just only be a block away from your home.
Sundae School is a small ice cream shop that has 68 different flavors of ice cream. It is housed in an old one-room schoolhouse, a brick building with a white steeple and a stone inlay below the peak of the roof that says "Pennville School of Hilltown, Est. 1821." They have sundaes, shakes, banana splits, waffles, caramel apples, kettle corn, gelatos, and water ice. Jayne Lafty, a Pennridge student, has been working at Sundae School since May of 2021. When asked what made Sundae School different from other ice cream shops she stated that "Sundae School has a family feeling that other corporations do not because it is a small business and can accommodate many different types of ice cream preferences. Many people are shocked by how overwhelming it is when you first walk in because of the many flavors and bright colors." Something that Jayne wants people to know is that the people at Sundae school can make you anything, all you have to do is ask for it. She says "It is not limited to our menu and there are so many things to try!" Sundae School has put smiles on people's faces for years and will continue to do so.
Another local ice cream shop around our area is Nina's Waffles. Nina's Waffles has been around since 2012 and has been growing bigger ever since. Chloe Maialetti started working for Nina's when it first opened in Dublin back in October of 2021. Chloe believes that Nina's is an underrated ice cream shop. She explained that "a lot of people do not know about the Dublin location and the ice cream and waffles are very good." Nina's has a very warm and welcoming feeling to it and everyone there is nice and the customers are locals. Chloe says that people should go to Nina's Waffles because the ice cream and waffles are all homemade.
As the weather starts to get warmer ice cream is definitely a refreshing treat to have, from its cold creamy outside to the delicious waffle cone that meets you at the end. Ice cream has been around for years and continues to be everyone's favorite dessert. Dairy Queen and Ritas are both amazing ice cream shops; however, nothing beats the homemade ice cream that comes from Nina's Waffles or the warm feeling that you get when walking into Sundae School. So next time you are looking for a sweet treat, just go around the corner to your local ice cream shop. You may be surprised at all the delicious treats you will find there.
Leave a Comment
About the Contributor
Victoria Sabath, Student Writer
Victoria Sabath, Grade 12. Interests and hobbies include singing lessons, drawing, hanging out with friends and family, going on vacation, and trying new...