Holistic Medicine: It's Effective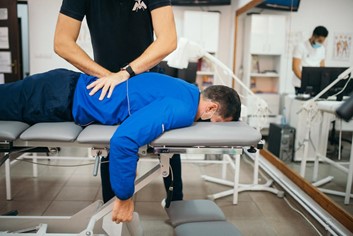 Holistic medicine is the new wave of health care and should be incorporated into everyone's lifestyle. Holistic medicine is treating through whole-person care, focusing on combinations of physical, mental, emotional, genetic, environmental, and social factors. Rather than treating symptoms (typically found in a traditional medical practice), it addresses disease from the root cause, even before symptoms appear. There are many ways you can start, simply by implementing holistic measures in your daily routine. Lily Maxwell, Pennridge 2022 graduate, and advocate of holistic medicine, further on her experience. Whether through food, vitamins, or Chinese herbs, Maxwell focuses on nourishing her body and preventing sickness daily. She says, "I believe food has the power to heal and restore our bodies."
More significant services, such as Chiropractor and Acupuncture, specialize in preventing and treating patients' conditions. Chiropractors use spinal manipulation to release positive hormones. It is beneficial in reducing pain and inflammation, improving sleep quality, reducing blood pressure, and mental health. Another alternative service is Acupuncture: inserting very thin needles in the skin to stimulate the Central Nervous System, balance blood flow, and release chronic pain. Like many other patients, Maxwell noted the vast impact of the Chiropractor and Acupuncture in reducing tension and stress and the disappearance of her chronic headaches.
According to Pew Research, Roughly three-in-ten adults have tried alternative medicine in conjunction with conventional medical treatment. However, many Americans are still hesitant to try holistic medicine, viewing it as a placebo effect rather than producing actual results. In response, Morgan Ratcliffe, Pennridge Senior, says, "Holistic medicine is the only thing that has ever worked for me in my personal health process, even after attending plenty of non-holistic doctors previously."
It is time for everyone to take responsibility for their health and explore the various Holistic approaches to incorporate into their routine, whether addressing chronic pain, stress, or inflammation through Chiropractic and Acupuncture services. Or simply starting by incorporating a good diet and vitamins daily. Whole-person care is effective and should be implemented by all.
Sources:
https://link.gale.com/apps/doc/A431618138/HWRC?u=pl2648&sid=bookmark-HWRC&xid=7984e072
https://my.clevelandclinic.org/health/treatments/21683-integrative-medicine
https://web.s.ebscohost.com/scirc/detail/detail?vid=3&sid=cbeb01e0-074a-4adf-ae54-dcc70a723e62%40redis&bdata=JnNpdGU9c2NpcmMtbGl2ZQ%3d%3d#AN=159837794&db=sch
https://www.rtor.org/2019/02/21/mental-health-and-chiropractic-care/
https://www.mayoclinic.org/tests-procedures/acupuncture/about/pac-20392763
https://www.hopkinsmedicine.org/health/wellness-and-prevention/acupuncture#:~:text=National%20Institutes%20of%20Health%20(NIH,Addiction
https://www.pewresearch.org/science/2017/02/02/americans-health-care-behaviors-and-use-of-conventional-and-alternative-medicine/
https://live.staticflickr.com/65535/50573622662_14599805a7_b.jpg
Leave a Comment
About the Contributor
Cate Didenko, Student Writer
Cate Didenko, Grade 12, Interests/ Hobbies include dance, travel, and spending time with my family and friends. Cate plans to study psychology or neuroscience...