St. Patrick's Day: More than just Green and Leprechauns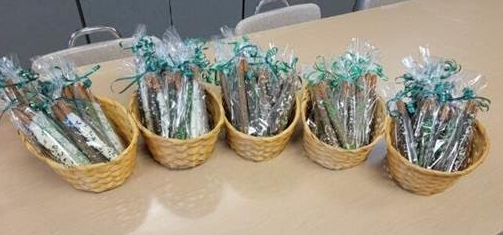 St. Patrick's Day is coming up this March 17., and the celebrations are quickly approaching. We may associate St. Patty's with green, leprechauns, and four-leaf clovers. However, there is a long history from which this holiday originates. It dates back to 1631, a day established to honor St. Patrick himself. St. Patrick was the patron saint of Ireland and its national apostle. His work was credited with bringing Christianity to his people. Shockingly, St. Patrick was not originally from Ireland; he only arrived in the country when he was 16 years old for work. According to the legend, he died on March 17., which is why the holiday is in mid-March.
The shamrock was a sacred plant of the Irish and is associated with the rebirth of spring. When the shamrock became conjoined with the celebration of St. Patty's, the holiday color became green. The holiday icon, the "Leprechaun," is a magical, little person or "lobaircin" believed to be able to use their power for good or evil. Wearing green is thought to make you invisible from the Leprechauns pinching you. Now, those that do not wear green are pinched by family and friends. Brooke Weiss, a Pennridge graduate, is currently in Ireland to experience the holiday. She says, "St. Patrick's Day is the biggest party of the year, and the entire country shuts down." Many Irish are off work and attend many of the parades which are found across the country. Traditionally, loved ones gather to enjoy a meal of beef and cabbage.
While the holiday originates from Ireland, the U.S. has adopted or even created new traditions for St. Patrick's Day. Across the country, major cities are celebrating with parades and festivals. Boston hosts one of the country's oldest and largest St. Patrick's Day parades, bringing in thousands of people to watch bagpipers, dancers, and bands. Chicago dyes the Chicago River with 100 pounds of bright green dye, one of the city's most famous traditions. Nationwide, restaurants and fast food chains create unique St. Patrick's specials that people look forward to all year. One of the most iconic treats is the McDonald's Shamrock Shake. Debuting nationally in 1970, created by McDonald's owner in Connecticut, started a national sensation for the mint shake. Klay Edshall, a high school student, says he looks forward to and enjoys many Shamrock Shakes seasonally. Edshall describes the milkshake as "a creamy, minty green milkshake, similar to the taste of mint chocolate chip ice cream." The Shamrock Shake can now be found across borders, including McDonald's in Ireland and Canada.
St. Patrick's Day festivities and celebrations are also occurring in our school and community. Life skills are selling St. Patrick's chocolate-covered pretzels for one dollar each from Room 365. They will also sell cards as well. On March 18, Perkasie will host the Celtic Fest from 11 a.m. to 4 p.m. This event will feature kilt competitions, face painting, live music, and Irish dancing. Even in classrooms across the district, especially in elementary schools, students will participate in St. Patrick's Day-themed classroom activities, games, and potlucks.
Sources:
https://kids.nationalgeographic.com/celebrations/article/st-patricks-day#:~:text=(Some%20ancient%20Irish%20flags%20even,color%20stuck%20to%20the%20holiday.
https://worldofwonder.net/dying-to-wear-green-why-wearing-green-on-st-patricks-day-has-meaning-today/#:~:text=There%20was%20a%20time%20when,for%20wearing%20the%20ethnic%20color.
https://emeraldislandcasino.com/2014/04/what-made-green-the-color-associated-with-ireland/#:~:text=17th%20of%20March.-,St.,and%20shamrocks%20in%20celebrating%20St.
https://www.livinginireland.ie/culture-society/a-brief-history-of-ireland/
https://www.rd.com/article/wear-green-st-patricks-day/
https://www.rmhc-swva.org/celebrating-50-years-of-the-shamrock-shake/#:~:text=The%20Shamrock%20Shake%C2%AE%20was,instant%20success%20across%20the%20country.
https://www.enjoyillinois.com/travel-illinois/the-history-of-chicago-river-dyeing/#:~:text=the%20river%20dyeing.-,If%20you%20visit%20Chicago%20during%20St.%20Patrick's%20Day%2C%20you%20will,right%20into%20the%20Chicago%20River.
Leave a Comment
About the Contributor
Cate Didenko, Student Writer
Cate Didenko, Grade 12, Interests/ Hobbies include dance, travel, and spending time with my family and friends. Cate plans to study psychology or neuroscience...