Behind Taylor Swift's Recording Breaking Eras Tour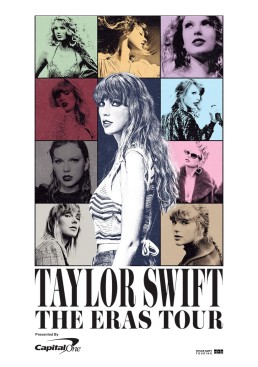 Taylor Swift is undoubtedly one of the biggest pop stars of all time, as she continually inspires others with her lyrics and music. Fans were overjoyed when she announced her Eras Tour in November of last year. Tickets were gone in seconds, and she quickly sold out in each city. Some questioned if the tickets were worth the price. Sabrina O'Shea, a lifelong Swift fan, is going to the Era's Tour two nights in a row. She said, "I think the prices that Ticketmaster originally had set were reasonable. They were low compared to other high-selling artists and their tours." O'Shea then went on to add, "I will never have this opportunity again, so I want to get the most out of the experience as possible."
Many fans were eager to go because Taylor had not been on tour since prior to COVID-19. Since the pandemic, Taylor has released three new albums and re-recorded two of her old albums. Many were excited to not only see Taylor in person but also hear her new songs live. The Eras Tour features all of Taylor's ten albums and is over three hours long. The concert features extravagant costumes, beautiful onstage sets, fun choreography, and of course, the icon Taylor Swift herself. For many, however, the concert is more than a fun night out with friends. Swift has been inspiring so many since the beginning of her music career.
Courtney Cooke, another fan of Swift, is also going to the ErasTour in May. She is continually inspired by Swift and her music. She said, "I think she embodies working hard for your dreams and using your voice for good." Swift's listeners find it easy to relate to her lyrics. She expresses herself in relatable and vulnerable ways that make her listeners admire her even more. Each of her albums features a different point of Swift's life which makes her appeal to many different types of audiences. Her music includes classic country, rock, pop, folk music, hip-hop, and indie. O'Shea is also inspired by Swift and her music. She said, "Swift uses her platform to speak out on political issues, and I respect how she uses her voice. In addition, I am inspired by her being able to turn her pain into something so successful." Swift makes a change for good and inspires others through her values, words, and actions.
Preparing for a tour is also not easy. Taylor has had to keep herself healthy to ensure she will be able to perform each weekend for six months. Fans have been having a blast at her concerts since they started in March. There have been iconic outfits, screaming fans, and even proposals at her concerts. Some fans will even come as early as 4 in the morning prior to the concert to get in line for Swift's merchandise truck. The Eras Tour will definitely be one to remember, especially for the fans attending. Swift Eras tour has been the highest-selling tour for a female artist, as it grossed out an estimated $544 million. She surpassed the previous all-time record set by Madonna's Sticky & Sweet Tour. Overall, Taylor Swift has inspired millions of people throughout the world and will continue to throughout her music career.
Sources
https://en.wikipedia.org/wiki/The_Eras_Tour#:~:text=Records%20and%20achievements,-In%20the%20first&text=Billboard%20reported%20on%20December%2015,million
https://en.wikipedia.org/wiki/The_Eras_Tour
https://nypost.com/2023/03/24/inside-taylor-swifts-unbelievable-eras-tour/
https://rolltherecord.com/blog/what-music-genre-is-taylor-swift/
Leave a Comment
About the Contributor
Hadley Polson, Student Writer
Hadley Polson, Grade 12, Interests/hobbies include traveling, skiing, dance, executive council, Key Club, NHS, and hanging out with friends and family....