The Race of the Roses
The Kentucky Derby is a historic American horse race that began May 17th, 1875 in Churchill Downs, Kentucky.  The occasion is rich with tradition and features race fans sipping a mint julep, donning a beautiful hat, and joining fellow race fans in singing "My Old Kentucky Home".  The race often referred to as The Run for the Roses, has become a celebration of southern culture and an American icon.  Every year, the race provides what is described as the most exciting two minutes in sports. 20 thoroughbred horses race around the one and a quarter mile track and the fastest horse wins.  At least, that is what is supposed to happen.  This year, the outcome of the race sparked controversy.
Horse number 7, Maximum Security crossed the finish line first but was disqualified because he "drifted out (of his running lane) and impacted the progress" of War of Will, forcing Long Range Toddy's jockey to check his horse.  The disqualification was the first since 1968 and the first of its kind.  As a result, the horse in second-place, Country House was bumped up to the first place and Maximum security was pushed back to seventeenth place.  The winning horse won $1.68 million.  The disqualification caused bettors millions of dollars and sparked controversy over the call.  The co-owner of Maximum Security filed an appeal to overturn the disqualification.  The Kentucky Horse Commission denied the appeal in a letter stating, "The stewards unanimously disqualified Maximum Security following two objections lodged immediately after the 145th running of the Kentucky Derby and after a thorough review of the race replay, That determination is not subject to an appeal."  In contrast, other sources claim the horse should not have been disqualified.
Spectators of the race had mixed emotions when it came to the disqualification.  Adam Tatar, a teacher at Pennridge High School, disagrees with betting on horses and believes horse racing is somewhat inhumane.  He stated, "Never bet the ponies."  He did not have any comment on the authenticity of the disqualification call.  Rebecca Lippmann, also a spectator, won big on race day.  Not knowing what horse to bet on, she went with her instinct and chose Country House.  Her instinct proved right when she proudly won $3000.  When asked for her opinion she answered, "I was not expecting the disqualifications and I didn't expect them to make a decision like that. I think it was a hard decision to make because they haven't done anything like that in all the years of the Derby. I do believe it was fair."  This Kentucky Derby will go down in history as the most controversial calls of all time.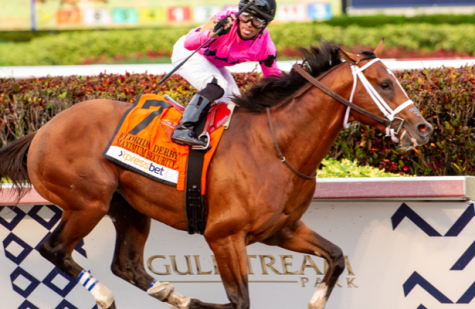 About the Writer
Connor Robertson, Student Writer
Connor is currently in grade 12. His interests include: politics, sports, fashion, technology, and medicine. His goals include informing readers in an...