Into The Woods: It's Time To Go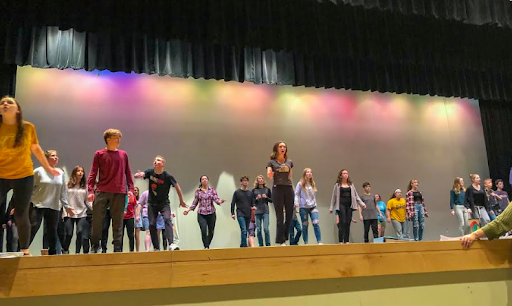 Pennridge High School Theater takes on another year of breathtaking, magical, and incredible productions. With about 20 seniors in the upcoming musical, Into the Woods, they are all excited to share their last moments on the high school stage performing together. The directors of Pennridge theater take a lot of time when carefully deciding which show to do each year in order to make sure they choose something different than other schools in this area. Each cast member brings an abundance of different elements to the productions, which is why each show is so unique. Their funding all comes from previous ticket sales, concession stands, and advertisements. 
Senior Delaney Nichols, playing one of the lead roles of Cinderella, says that most of the musical consists of advanced and difficult songs to sing, so "everyone is working very hard to perfect, but it will take a lot of hard work.  It will definitely be worth it in the end." Delaney is thankful that she joined the program because it brought her out of her comfort zone, and she loved being welcomed into a very talented cast and crew. One of her favorite memories while being in Pennridge Theater is "establishing strong relationships with everyone and gaining so many close friends." Next year, she's especially going to miss the directors and fellow senior, Jimmy Mamrol.
Theater liaison, Mrs. Borghi, says that she is most excited about a few things this year that are firsts for her: getting to be the theater liaison and having both of her children in the musical. She also says that, currently, "we're starting off with going through all the songs and now we're on blocking: focusing on who's on stage and their stage positions." They take each rehearsal very seriously and focus on every single detail, giving 100 percent hard work and cooperation on and off the stage. Some of the cast agrees that starting the show is always difficult and challenging, but it always comes together in the end. The talented cast always manages to put on breathtaking shows that appeal to all ages within the community.
The spring musical is on April 2, 3, and 4 at 7 pm. On April 4, there is also a 2 pm show. Tickets are $15 and can be purchased online closer to the show or at the door. All proceeds go back into the theater program. One of Into The Woods' songs has "a great message and we're going to present it in a whole new way," says Mrs. Borghi. Pennridge theater has a range of different characters in Into the Woods, but one quality remains the same; each cast member's character as an individual positively represents Pennridge.
About the Writer
Kelly Roland, Student Writer
Grade 12

Interests/School Involvement: Dance Team Captain, NHS Officer, choir, piano, baking, Game of Thrones

Goals: Will be attending either Millersville...