Lilianna Genatempo: Featured PHS Artist!
Lilianna Genatempo is a freshman at Pennridge High School who has made a significant impact on the art program.  Just in this year alone, Lilianna has been challenged in taking on all types of art such as charcoal, watercolor, and acrylic painting.  Liliana has created an eye-catching expressionist painting that has caught the attention of many students and staff members across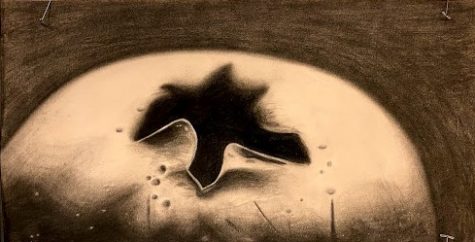 Pennridge as a whole. Her talent was exemplified as she used only one color with monochromatics to bring out the background that contrasts with the girl that she painted who appears to be in the darkness.  When asked if she has seen improvement in her work, Genatempo said, "I think I have grown because I have learned how to use different skills when using paints and pastels in all my work that I haven't really done before."  What makes Lilianna an exceptional artist is her emphasis on putting deep meaning behind all her pieces.  "I like to draw what life is like and keep it real," Lilianna said.  As Lilianna has already made an impact on the arts program in her freshman year, her peers and surrounding staff at Pennridge High School are excited to see how she excels in her four years at Pennridge and is excited for the new pieces that she will create.  Check out some of Lilianna's work below!