Four Lifting Tips from a Former Beginner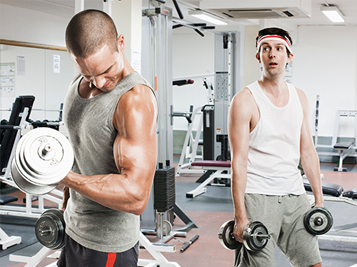 There are many things that go into a proper weightlifting plan. And as a beginner, it can all seem overwhelming and maybe even intimidating to develop one yourself. I once was a six foot two, 150-pound kid who looked like he belonged anywhere other than in a gym. But over two years later, (still six foot two), I grew to more than 200 pounds and developed a strong diet and lifting regimen. Within this article, I want to outline four key tips I have for beginner lifters who are interested in picking up the weights!
First things first, don't be intimidated by others. It's so easy to compare yourself to others in the gym, especially when you are first starting out. It's crucial to remember that everyone progresses at their own pace. Your focus should be to become better than the person you were yesterday, not whoever is sitting next to you on the bench press. You can never be anyone besides yourself, so be focused on improving that person!
Second, do your research. There is a ton of information online about excellent training routines filled with many great exercises! And if you don't know how to do a certain exercise, you can search youtube for detailed videos on just about anything. Put down some sort of routine for yourself in the notes of your phone as an outline for your workout. This will help to pace yourself so you don't spend too much time standing around wondering what to do next. Try some different things out, and organize a program that works for you.
Third, consistency is key. Don't be afraid if the scale isn't going up as fast as you want, or if you are stuck lifting the same amount of weight. Keep showing up. Real results take time! Don't rush any of your workouts, or try to push yourself beyond what you are safely capable of to try to "maximize" your progress. Take it slow, and stick to your routine. With enough consistency, you can blast through any slump in your training. Any difficulty with a lifting plateau may go beyond the weight room, which leads me into my fourth and final tip.
Fourth, keep an eye on your diet. This may well be the most important tip you take away from this article. At the end of the day, it doesn't matter what you're doing when you are in the gym. Because if you're not eating right, you won't improve! Eat your protein. Have some more high-protein foods in your diet, such as meats, cheese, nuts, fish, milk, yogurt, etc. And like in lifting, some research is majorly beneficial to this as well. If you are really set on massive gains, it may not be a bad idea to track calories and protein intake.
Lifting weights has been a huge part of my life now for about two years, in which I've developed a passion for something outside of my normal life and have gained so much confidence in my personal appearance. I'd recommend it to just about everybody purely based on where it's gotten me in my own experience. Follow these tips and make sure to check again for more future lifting articles!
Sources:
 https://hips.hearstapps.com/ame-prod-menshealth-assets.s3.amazonaws.com/main/thumbs/35337/unknown.png
https://www.healthline.com/health/how-to-start-lifting-weights
Leave a Comment
About the Contributor
Jude D'Agostino, Student Writer
Jude D'Agostino, Grade 12, Interest/hobbies include lifting, basketball, NHS, Younglife, playing Xbox, hanging with friends, and sleeping. Jude plans to...