The Transition Into College Life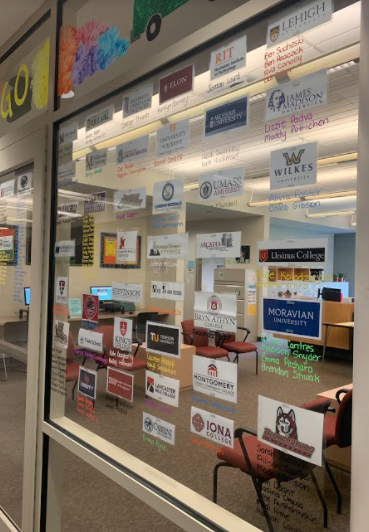 While the stress of high school is ending, say hello to the stress of college. Granted, while we do have the summer to chill and relax, preparing for college takes different tolls on your mental and physical health. Though college can be fun, the exhaustion has to be talked about. After you graduate, people who choose to go to college often move away from home. They start a completely new life with new people, places, and situations. This is often exciting but can also be quite stressful. "Mentally students want to experience college life but then realize there's more responsibilities besides just school", says Cindy Lewis, who is the head of the College and Career Center at Pennridge. College is much more than just the learning experience; living on your own and being responsible for yourself becomes a big part of college life.
Before you go to college, there are a few things that need to be done. First off, packing everything for your new home in college can be quite tedious. There will be an abundance of items you will need that you probably will not even think about. Since you will be living there for a long period of time, you will need all of the essentials you don't even think about buying at home. Towels, a laundry basket, sheets, pillow cases, a fan, extension cords, and even random things such as an umbrella will be necessities. All of these things may be right within reach at home, but in college you will need to bring them. One thing you can do to take the stress of packing down a notch is communicating with your roommate about who brings or buys what. For example, you only need one rug for your dorm. Another thing to remember is that dorms are small. You will not have enough room to pack your whole wardrobe from home, so only bringing seasonal outfits is a good idea. When you go home from time to time, you can cycle out your clothes.
Even though you must do things like pack and buy essentials to prepare physically, you should also be preparing mentally so you can go into this new start with the best mindset possible. Being able to focus on one problem at a time will allow you to be in the best mindset. By doing this, you are able to not overwhelm yourself. If you find you need help, you can always talk to teachers and counselors. They're always there for you to establish a plan. Once you have established a plan about college, you need to manage your time wisely. A college will see who is the cream of the crop by seeing who can manage their time. Lexi Tate, a Pennridge senior, says that "keeping up with the work" is her biggest worry about college. Dividing your time will allow you to accomplish small tasks and the extra workload that colleges give you.
Another way to mentally prepare for college is being able to talk to students who go to your college. The students there know the ins and outs of your college. They can give you advice on what you need and what you should know. This will help with classes. This is not going to be like high school. You won't have the same schedule everyday. You'll be able to meet new people and experience new things. Know that while new can be scary, it is also very exciting. So, be ready to jump into new groups, and, if you need help, you can ask for it. Asking for help will not kill you. You'll be able to learn from asking questions.
Mentally preparing will also include facing the challenges of money. As a high school student, a check is $150. Now, after college, debt that is as big as $100,000 is something we have to deal with. High school doesn't prepare you for college or the debt that you are about to face. You will have to talk to parents about taking out loans for you along with taking out loans yourself. Another way to get money for college is scholarships. You do not have to pay these back. These scholarships can be for accomplishments or for writing an essay. Debt is new to us.  Make sure that you talk to your parents about how you're going to be able to afford college or where the money is coming from.
While the end of one era is approaching, the beginning of a new one is on the way. In college, you'll be able to meet new people, experience new things, and have the time of your life. Classes will be hard but you have so much to look forward to. Every freshman on campus is in the same shoes as you. They understand what you're thinking. Reaching out to people will allow you to get through college. Scary events make us stronger as people. When you're there next year, you will forget about the stress of preparing for college and will enjoy the experience of college.
Leave a Comment
About the Contributors
Hannah Laincz, Student Writer
Hannah Laincz, Grade 12. Interests/hobbies include piano, guitar, painting, spending time with friends and family, being outdoors, and walking her dogs....
Josephina Mason, Student Writer
Josephina Mason, Grade 12. Interests and hobbies include marching band, color guard, and baking. Josephina plans to attend Lehigh University or Lafayette...