Who is John Theobald?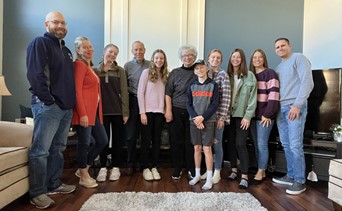 Military police officer, student, son, chief of police, father, and grandfather are just some of the titles John Theobald, my Poppy, has received throughout his lifetime. He has done, seen, and experienced so much in his 72 years on earth, but if you were to ask him, he would say that his favorite part was doing, seeing, and experiencing those things with the people he loves, and he would give all credit to the Lord for his life and the blessings he received in it.
Poppy grew up in Philadelphia with a loving mother, father, and younger brother, Mark. His family has grown very much since then. He married Alice Wilfong, my Nana, and had two children; Jennifer and Stephanie. He now has two sons-in-law and five grandchildren toward whom he is an example of Jesus Christ. My grandfather has taught all of us to walk with the Lord each and every day and encourages us constantly. He is humble, kind, funny, and the best person to go on a 32-hour road trip with. Pop is now retired and spends most of his time with family and friends, but throughout his life, he's had many adventures, a military experience on the opposite side of the Atlantic Ocean, and an exciting yet exhausting career.
At the age of 19, just two years after he graduated from a public high school in 1967, Poppy was enlisted into the United States Army as a military police officer. He attended an 8-week military school in Fort Gorden, Georgia, then was sent off to West Germany to protect a nuclear weapon storage site. He fulfilled this same position for two years but juggled many personal difficulties while there. He and Nana, his fiance at the time, had planned to get married when he returned from Germany, but after the sudden loss of her father, he returned home, married my grandmother in 1970, and took his wife back to Germany with him. "We experienced difficulty in language, travel, and buying food," he said, and Nana commented that "life, in general, was hard." But despite the cultural differences and language barriers, the two of them learned a lot during their time in Europe and even made friends who they are still in contact with today.
Upon returning home, my Aunt Jen was born, and Poppy knew he must join the workforce in some capacity to provide for his family. Policing was his childhood dream. "I was in the safety patrol in elementary school," he said, and "after serving as a military police officer it seemed like a logical transition to move to the police force." So he did. He would soon find out that this was a demanding, sad, difficult career, but he still was able to enjoy it while managing time spent with his family. "When I was very little I remember him being on night shifts and he would sleep during the day. But he always made my activities a priority, and that made me feel special," Pop's second daughter and my mom, Stephanie, said. Poppy confirmed that his time in the police force taught him a lot, but he often doesn't share the things he had to witness and deal with. There were happy moments, "but they were few and far between," Nana said.
Looking back, my Poppy is thankful for his career, but still wishes he could have worked fewer hours and spent more time with his family. He was and still is a family-oriented man. He would constantly put others before himself, and that is what made and still does make him an example of Jesus Christ for our family. My grandfather has made many accomplishments in his life and he's exemplified humility through it all. But his love for his family, his humor, and most importantly his salvation, his relationship with the Lord, and daily example of Jesus are what truly make him such an amazing man. His relationship with Jesus is the most important thing to him, Pop says, "because everything else flows from it."
Leave a Comment
About the Contributor
Emma Weise, Student Writer
Emma Weise, Grade 12. Interests/hobbies include painting, being with friends and family, singing, serving at church, and listening to and playing music....