Pennridge Senior Hockey Players
The past four years have been full of successes and challenges for the Pennridge Men's Ice Hockey team. Now that the 2020- 2021 season is coming to an end, we would like to highlight the four seniors by taking a look back on their high school hockey experience and see what adventures they are looking forward to in the future.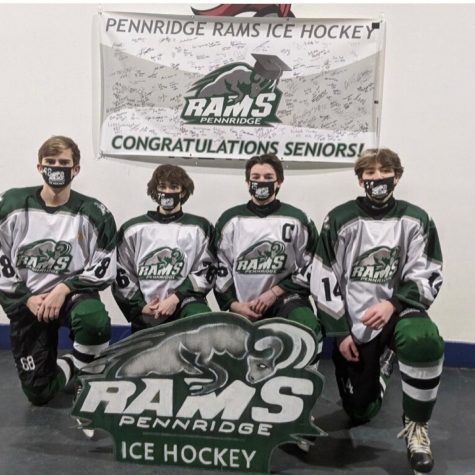 Blake Stewart: 
Forward #15
Blake has been playing Pennridge hockey since 5th grade, but started practicing when he was six years old. He worked his way up to the high school varsity team and his senior year was named captain. When asked what his favorite memory was while playing in high school, he responded with, "When we won the league championship for the first time since 2008, my sophomore year." After high school, Blake plans on studying accounting at Thomas Jefferson University. He will also be continuing his golf career at the collegiate level.
Connor Frisch:
Defense #68
Connor has been playing ice hockey since the age of six. He started off playing in house at Hatfield Ice, then for a year, played with the BC Eagles. He found a more permanent spot for the Ice Dogs where he advanced his hockey career from the ages of 11 to 16. Once making it to high school, Connor played on Pennridge's varsity team all four years. His favorite high school memory was beating CB South sophomore year to win the SHSHL championship. Connor says, "My plans for after high school are to attend Penn State main campus to study criminology to hopefully then go to law school. Regarding hockey I wish to join the adult "beer league" when the time comes."
Jeff Manto:
Forward #76
Jeff started playing hockey in 6th grade. He continued his hockey career throughout middle school and advanced onto the high school hockey team. When asked what his favorite memory was while playing in high school, he responded with, "When we won the championship my sophomore year. The whole year was so much fun with the guys and obviously winning." After high school, Jeff plans on working at his family's restaurant as much as he can and hopefully play a couple pick-up leagues just for fun.
Richie Shanks:
Forward #14
Richie has been playing hockey since 3rd grade. For the past 10 years, his hockey career has progressed from little leagues to the varsity high school team. His favorite memory while playing was winning the high school championship game. When asked what his plans are after high school regarding school and hockey Richie responded with, "I plan on taking a year off and working. Then, I plan to take business classes. For hockey I plan to finish this year and most likely next year, then I'm probably done playing for a league after next season."
About the Writer
Emily Padva, Student Writer
Emily Padva, Grade 12. Emily likes to play lacrosse, ski, hang out with friends, and take her dog on walks. Emily's goal is to graduate college and visit...