Two Blue Dogs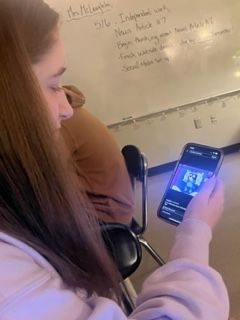 In children's shows, there is normally an animal or fun main character that kids are able to follow along with. Multiple times in the past, the main character ended up being a blue dog. The three main blue dog shows are Bluey, Blue's Clues, and Huckleberry Hound. These shows are very different, one way is how they came to be and how they became popular; however, they're still very similar in the way they present themselves and how they capture the eye of preschoolers and young children.
Blue's Clues started on September 8, 1996. The show follows an animated blue-spotted dog named Blue as she leaves a trail of clues and paw prints for the host and the viewers to figure out her plans for the day. The producers combined child development skills and early childhood education. Unlike any other shows at that time, Blue's Clues was more of a narrative type of format compared to other shows, which had more of a magazine format. At the end of 1997, it was the highest-rated show for preschoolers on commercial television, and was the third-highest-rated show behind children's public television shows: Barney and Friends and Arthur.
Bluey is an Australian animated TV show that started in October 2018. The show follows Bluey, a six-year-old puppy who is characterized by her abundance of energy, imagination, and curiosity about the world. This show focuses on family, growing up, and Australian culture. Every episode covers a different story like a baby race and how some dogs were learning to walk faster than others. Like Blue's Clues, it follows the storytelling format where the viewers will follow a story being told or the day that Bluey is living. Bluey is also seen throughout TikTok. One Pennridge senior, Zach Calderone, said that he became familiar with this blue dog through TikTok.
Huckleberry Hound first appeared in the series The Huckleberry Hound Show. Hound is a Southern, blue, cartoon dog. This show ended up winning an Emmy in 1960 for "Outstanding Achievement in the Field of Children's Programming". This show consists of Hound trying different jobs that end up going poorly but with a little bit of luck or perseverance, Hound came up on top. Hound's jobs included being a police officer, dog catcher, Roman gladiator, medieval knight, and more.
Both of these shows are storytelling and lesson-learning shows for preschoolers to learn and also to enjoy watching a show. It is hard to find someone who doesn't know about Bluey through TikTok; not to mention, Blues Clues is so well known for being the highest-rated show for preschoolers. It's also hard to find people who remember Huckleberry Hound due to it being around 65 years old. Caroline Bailey said that she watched Blues Clues a while ago but she heard of and watched a little bit of Bluey. When it comes to what Baily and Calderone think about what will be remembered more they both said Blues Clues due to the originality of the show.
Sources: 
https://www.emmys.com/news/hanna-barbera-sculpture-unveiled-animation-legends-honored-hall-fame-plaza
https://www.wideopencountry.com/daws-butler/
https://www.publishersweekly.com/978-0-7931-5376-3
https://variety.com/2006/scene/features/new-tricks-help-old-dog-stay-on-air-1200342597/
https://www.nytimes.com/1996/08/09/us/us-mandates-educational-tv-for-children.html
https://web.archive.org/web/20190706100849/https://tv.press.abc.net.au/abc-kids-and-bbc-worldwide-partner-with-award-winning-ludo-studio-on-new-preschool-animated-series
https://www.theguardian.com/tv-and-radio/2019/may/16/custards-dave-mccormack-on-voicing-blueys-dad-im-popular-at-school-drop-off-time
Leave a Comment
About the Contributor
Nathan Esbenshade, Student Writer
Nathan Esbenshade, Grade 12. Nathan's Interests and hobbies are soccer, football, and hanging out with friends and family. He plans to go to Penn State...