Valentine's Day History & Traditions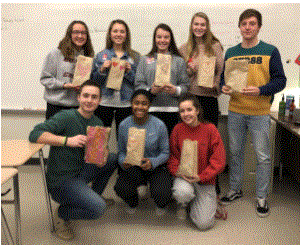 The tradition, originating from the Roman festival of Lupercalia, that celebrated the coming of Spring (on Feb. 14) and paired women off with men by lottery, is now known as Valentine's Day! The name Valentine's Day, according to the legend, is named after Priest St.Valentine, who would secretly marry couples to spare their husbands from war. This is why we associate the day with love. He would write out letters; signing them, "from your Valentine", which lead to formal messages or 'Valentines' in the 1500s. As the years continued, the day was celebrated differently, until it morphed into our modern Valentine's Day.
Students at Pennridge High School relate such things as, cupid, roses, love, candy, and gifts with Valentine's Day. Not only do those words paint a picture of the holiday, but are the most common gifts to receive. Students recall getting gifts from their parents, every Valentine's Day morning, filled with candies and a card. Other students will go out to eat with either their mom or dad every year to ensure they always have a Valentine. Students who are in relationships at Pennridge, enjoy surprising their girlfriend/boyfriend with flowers or a sentimental card. For students who are successful in the kitchen, they enjoy baking heart shaped cookies and making chocolate covered strawberries. Another tradition for Pennridge students, is celebrating this holiday by wearing the colors red and pink. For most Pennridge students, they admit to celebrating Valentine's Day this year in some shape of form.
In the elementary schools at the Pennridge School District, each class would give each other Valentines in a paper bag the students decorated. The Valentines would vary from humours cards, to candy, to holographic picture of a monkey opening and closing its mouth when it was turned a certain way. No matter what each student handed out, every child would go home with a bag full of goodies, that made them feel special. This year, in Mrs. Gordienko's second period journalism class, we hosted a Valentine's Day party, mimicking what we would do in elementary school. Paper bags were passed out and the students decorated them with red, pink, and purple markers. Most students brought in candy to hand out and it only took ten minutes, but brightened up everyone's Valentine's Day.